Although the zombie apocalypse, a fictional concept, is highly unlikely to happen, many people surprisingly believe in that kind of scenario. Whether you believe in that stuff or not, you don't need to panic at all. Many unbreakable vehicles are available in the market that can outrun zombies and tackle rough terrain.
In such worst-case scenarios, you will need something more suitable than Hyundai Elantra to protect you from looters, etc. Today's trucks, SUVs, and other off-roaders are specially designed to bug out and help you survive a doomsday scenario. You can even survive in nuclear fallout, raining meatballs, and zombie mobs.
In this article, we have compiled a list of the 15 best survival vehicles. All these vehicles have excellent off-road capabilities. Let's get started…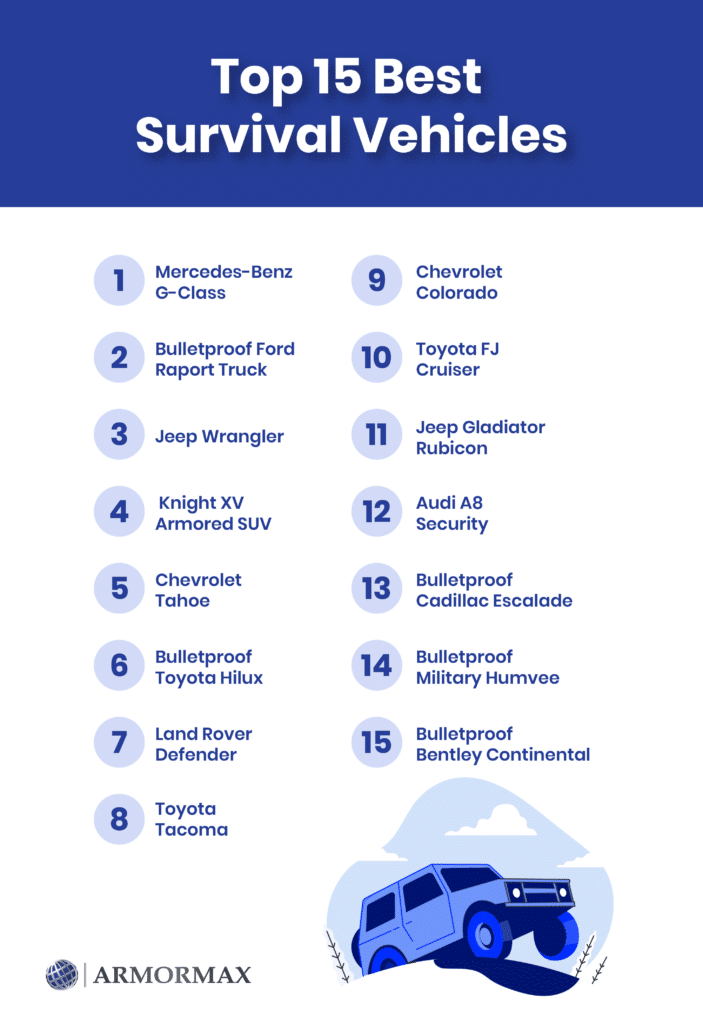 This is one of the best survival vehicles with a stunning design. It performs well in the event of an apocalypse and can easily traverse mud, steep slopes, and water. Its 4-liter twin-turbo V8 engine makes it a more thrilling machine with 412 horsepower.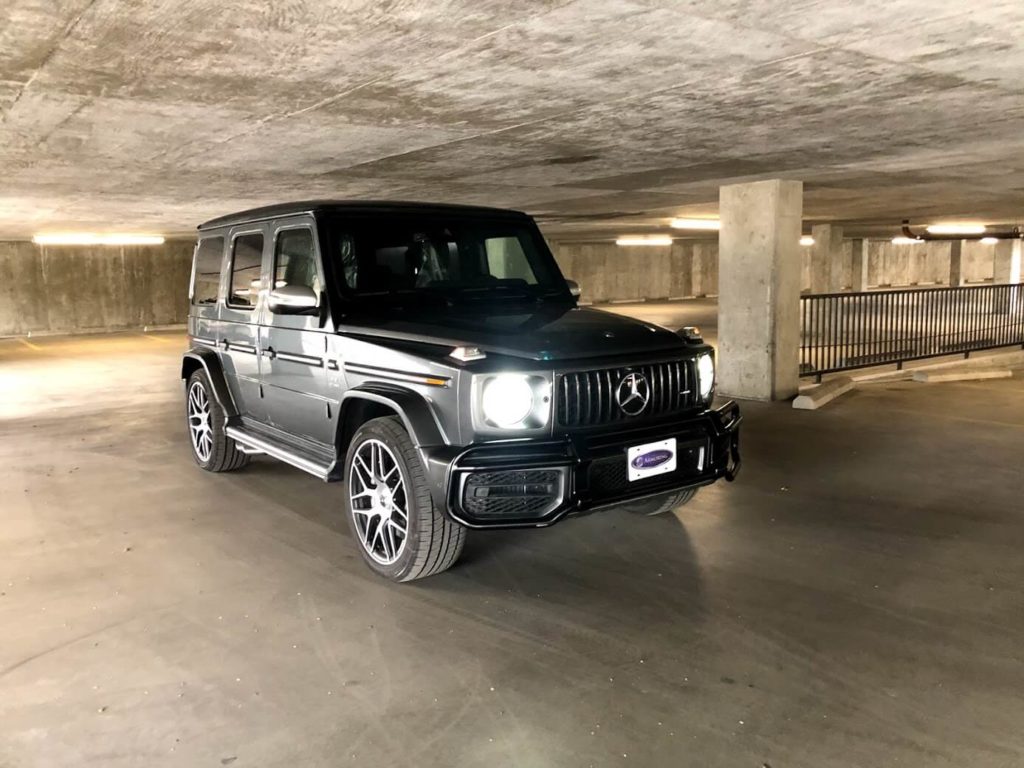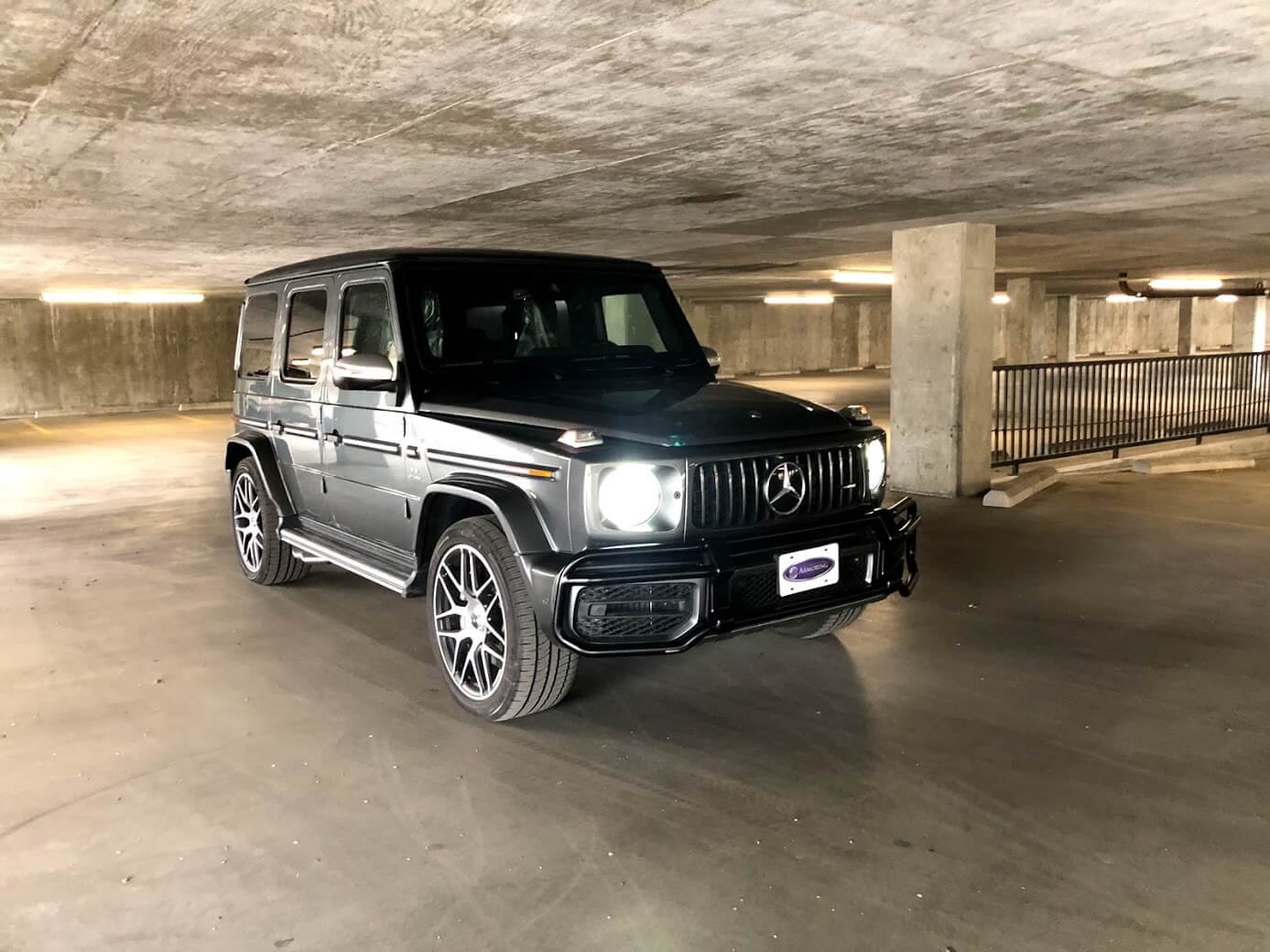 It comes with many advanced safety features such as automatic climate control, a multi-function suspension steering wheel, and passenger airbags. Some other features like the antilock braking system make it more secure during off-road ventures.
2. Bulletproof Ford Raptor Truck
The Ford Raptor is one of the best trucks among survivalist vehicles with a 450 hp and sleek design. This badass has plenty of advanced features like automatic emergency braking, an outside temperature display, and a reverse sensing system.
After installation of armor on For Raptor by Armormax®, it can withstand several rounds from high-powered rifles and explosive threats. It has become a disguised tank due to its super strong protection level. You can customize different features like run-flat tires. So you can travel up to 80 km by traveling at 30 mph speed with flat tires.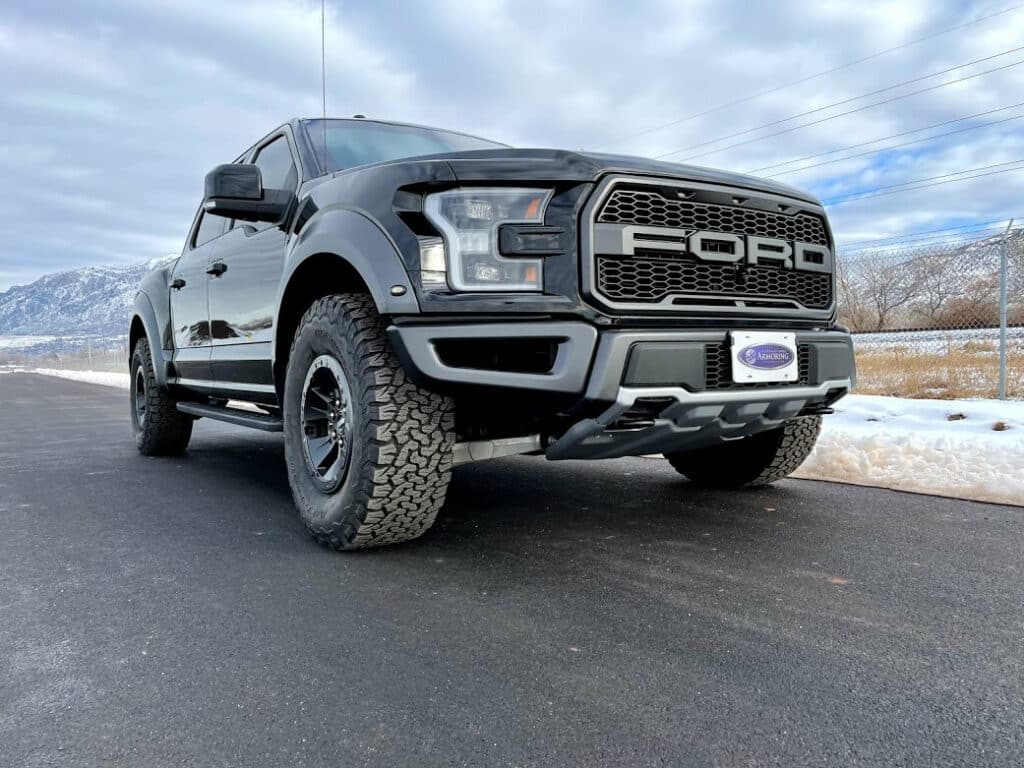 3. Jeep Wrangler
It is another iconic SUV for all kinds of off-road ventures. You can crawl up almost anywhere using this vehicle due to its excellent approach, ground clearance, and robust front and rear axles. The SUV is very comfortable and has huge storage space for post-apocalyptic gear.
Jeep Wrangler comes with many advanced features such as a tire-fill alert system and a forward-facing camera similar to the Jeep Gladiator. Its powerful engine and robust exterior make it one of the best survival vehicles.
4. Knight XV Armored SUV
It is a fully armored luxury vehicle that fulfills all the requirements of ballistic testing. Knight XV comes with a bio-fueled 6.8-Liter V10 engine, transparent tinted armored glass, front and rear night vision cameras, and cabin seating.
Further, it also has a dual-screen rear console, ballistic fiberglass bumpers and fenders, and side-mounted laptop stations. Its other useful features include custom aluminum wheels and navigation and Bluetooth systems. Nothing can penetrate this giant vehicle.
5. Chevrolet Tahoe
This classic SUV is one of the best choices for carrying all necessary gear during an apocalypse. However, Chevrolet Tahoe does much more than that. It offers a lifted suspension system and a robust 355 hp 5.3-liter V8 engine.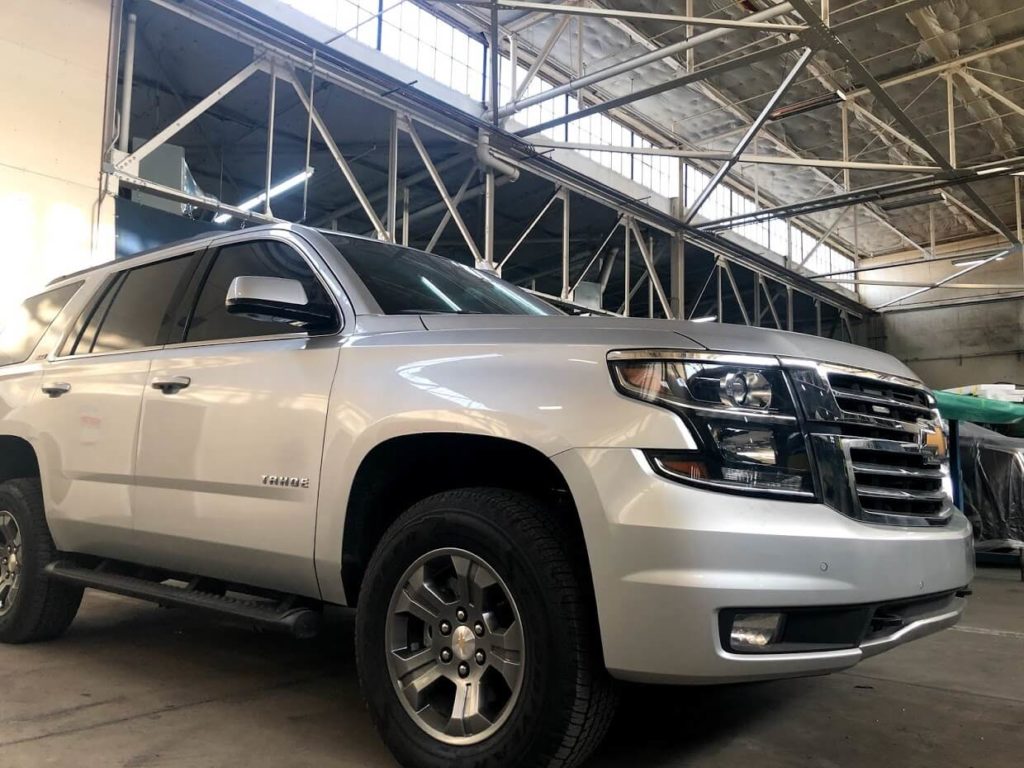 This survival vehicle comes with many advanced safety features like gas masks and a military first aid kit. Further, it contains a solar power pack and built-in generator, and a lockable truck vault for storing your food and weapons.
6. Bulletproof Toyota Hilux
This armored Toyota Hilux is one of the robust vehicles armored by Armormax. It comes with a heavy-duty transmission, automated emergency braking with a pedestrian detection system for pedestrian protection.
Further, it contains front and rear parking sensors, road sight assist, reversing camera, intelligent adaptive cruise control, and immobilizer. Further, it also contains traction, trailer sway, vehicle stability control system, and leather interior. The Toyota Hilux comes with either diesel or gasoline engines. It is the finest option for both highways and off-road ventures.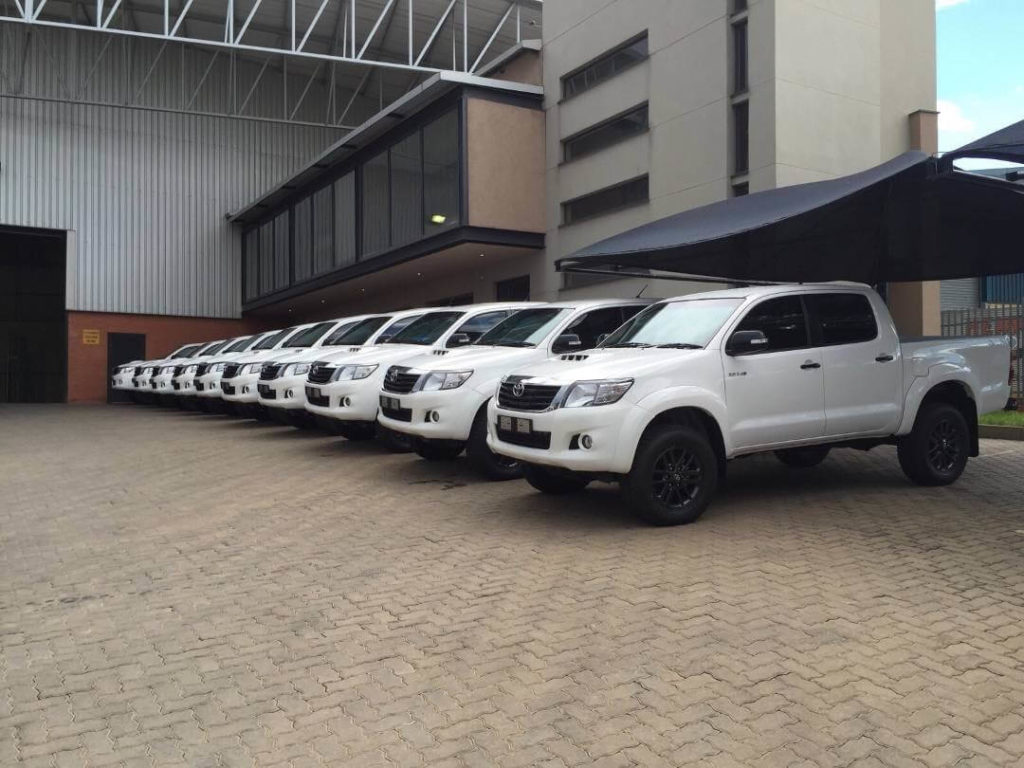 7. Land Rover Defender – Custom Conversion
Land Rover Defender is an incredible off-road truck to explore the desert trails. Its fantastic DSSV dampers raised suspension, and large knobby tires give it an aggressive look.
Above all, it comes with a 2.8-liter turbo-diesel so you won't have to stop at zombie-infested gas stations quite often. It doesn't only allow a four-wheel-drive option but also offers a 4-wheel anti-braking system. Some other features include front and rear head airbags, remote anti-theft alarm, and blind-spot and lane departure alerts, etc.
8. Toyota Tacoma
This survivalist car comes with gas engine types, 6-speed automatic transmission, and four-wheel drive types. Toyota Tacoma has excellent on-road and off-road capability. It comes with many advanced safety features like 4-wheel ABS, engine immobilizer, post-collision safety system, front, and rear head airbags.
Further, it has a lane departure warning, accident avoidance system, 2 front, and 3 rear headrests, and a pre-collision safety system. To survive in doomsday-like conditions, you can contact Armormax for armor installation.
9. Chevrolet Colorado
Chevy Colorado comes with a stunning design and a 21-gallon fuel capacity. At the EPA-rated 20/26 mpg, it can cover astonishing 420/546 miles on a single tank of gasoline.
It has many safety and security features to protect you and your family. For example, it comes with front and rear head airbags, a tire pressure monitoring system, and rear height adjustable headrests. Chevy Colorado has many safety features like ABS to prevent a collision.
10. Toyota FJ Cruiser
Although the FJ Cruiser is an older model, it is still one of the best survival vehicles. The SUV comes with funky looks, offensively bright colors, and strange lines. However, it can scale rough terrain and have good storage space to carry much gear.
FJ Cruiser has a capacity of 19 gals. Though it is an older model, it comes with plenty of safety features. For example, it comes with 4-wheel ABS, engine immobilizer, front seatbelt pretensioners, and emergency braking assist, etc.
11. Jeep Gladiator Rubicon
You can't consider everything gladiator unless it has those sorts of ambitions. Jeep Gladiator is a real gladiator with fox shocks, skid plates, locking front and rear differentials, beefy Dana 44 axles, and rock rails.
The Jeep is quite big to carry all necessary gear when going on ventures. Further, its robustness and off-road capability are assets to leverage when clambering around off the grid and mowing down the undead to evade spawning sites.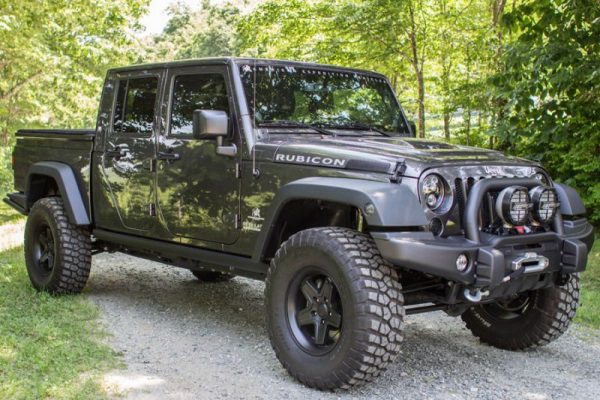 12. Audi A8 Security
Audi armored vehicles are quite popular for security with style. The Audi A8 Security comes with an incredible design and the best safety features. Further, advanced armoring technology maximizes its protection level.
Audi A8 Security is made of special aluminum alloys armored by Armormax. It is certified by the German Ballistics Testing Center for VR 7 ballistic standard. The vehicle can protect against multiple shots of pistols and other handguns. This masterpiece is still customizable so you can customize it according to your need.
13. Bulletproof Cadillac Escalade
Cadillac Escalade is one of the best survival cars equipped with advanced technologies. This vehicle is a great addition to survival vehicles due to its eye-catching design and amazing features. it comes with rear-view mirror sight and night vision features.
This high-speed vehicle has a 6.2 L V8 engine that can get you anywhere you need to go to. Armormax armor this vehicle with lightweight ballistic material to improve its security. It can protect you against high-powered rifles, and explosive threats such as DM-51 grenades and IEDs. You can contact Armormax for more details.
14. Bulletproof Military Humvee
The bulletproof military Humvee by Armormax® is one of the best survival trucks available on the market. It has many advanced features like night vision, shocking door handles, run-flat tires, gas masks, and tack spikes. These features make it one of the best survival vehicles for sale.
This vehicle was primarily used by the military but now available for civilians as well. You can get this vehicle for the most difficult off-road ventures. Because it comes with almost all the latest security and safety features for safe traveling.
15. Bulletproof Bentley Continental
If you are looking for the best survivalist car, bulletproof Bentley Continental can be one of the best options. This is one of the safest survival cars available in the market. What makes it stand out among various survival cars?
This vehicle comes with plenty of advanced security systems like shocking door handles and smoke screen systems. Further, the additional Armormax® protection makes it an indestructible beast. If you are looking for either the best survival cars, luxurious cars, bug-out cars, this is one of the optimal options.
Choosing a Survival Vehicle for you
In this era of chaos, everyone must have a survival vehicle in their garage. However, choosing the best of the best survival cars and survival trucks is a tedious job. In this article, we have enlisted some of the best survival vehicles for sale. The list of vehicles doesn't end here. Some other incredible survival vehicles include Unimog Crew Cab, Ram TRX, GMC Hummer EV, and Wasteland Warrior.