Most of us think about airbags, bulletproof glass, and anti-lock brakes when talking about automotive safety. But automotive safety is not limited to these things nowadays. Today luxury armored vehicles can withstand bomb blasts and gunfire. Above all, armored luxury cars even emit handy smokescreen to defend against attackers.
Picture yourself in the ultimate armored luxury vehicles. In the passenger compartment, you are sitting in a soft leather seat and sipping champagne from your minibar. When attackers attack, you are perfectly okay and enjoying light music in the vehicle. It might seem like a scene from a James Bond film, but armored luxury vehicles are real.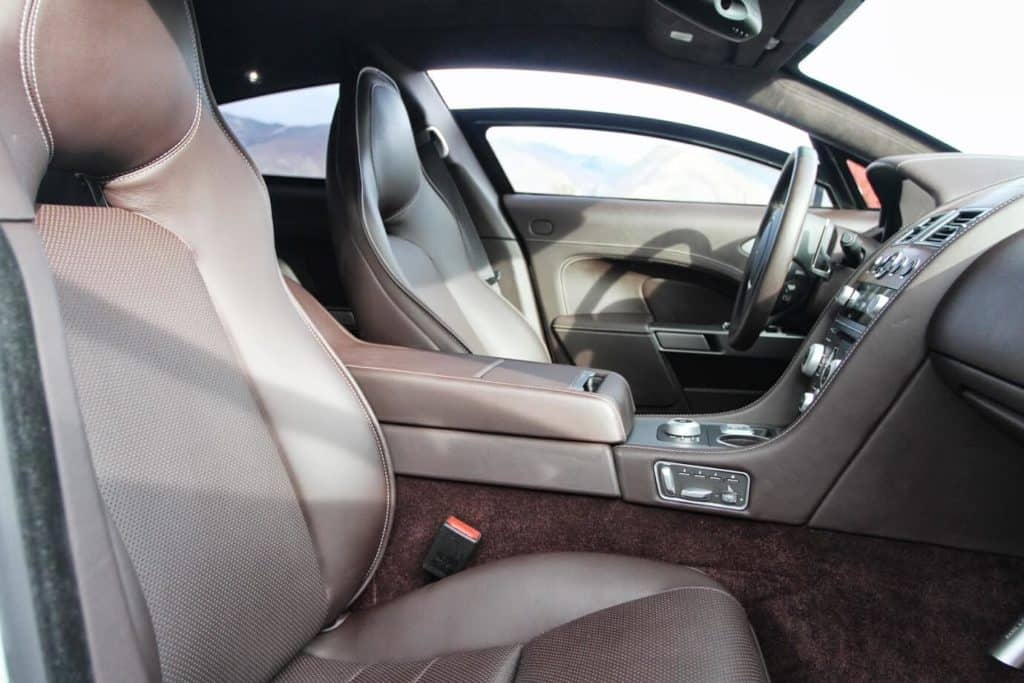 This article covers all aspects of luxury armored vehicles like what's the best-armored vehicles and who makes these cars. Can civilians buy armored vehicles? Let's begin with who can use armored vehicles…
Who Can Use Luxury Armored Vehicles?
The use of luxury armored vehicles is dramatically growing among US civilians. Armored vehicles are also quite common among civilians in Mexico, Brazil, and Nigeria due to security concerns.
A few years back, International Armored Corporation exported about 95% armored luxury cars to countries facing terrorism, organized crime, or civil war. They also customized armored vehicles such as Range Rovers and Cadillac Escalades for US civilians.
Law enforcement agencies, banks, military personal, and heads of state have been using armored luxury armored vehicles for decades. However, different security concerns have expanded their market to celebrities, politicians, professional athletes, corporate leadership, and other VIPs in the USA.
Three Facts About Luxury Armored Vehicles
Civilians and commercial armored vehicles are different from military bulletproof cars. But what about armoring technology and other equipment in the top automotive cars?
1. Different Armoring Standards for Luxury Armored Vehicles
There are many armoring standards for civilian armored luxury cars. For example, Ballistics Rating or BR is a European classification standard used to certify both the materials and vehicle constructions. They use B4 to B7 scales for grading the material in which B7 is the highest protection level scale.
Some other popular standards and grades in testing luxury armored SUV construction include VASG (in the UK), VPAM (in Germany), and NU (in the USA). VR4 to VR9 or PM4 to PM9 are some other grading scales. Some companies occasionally use simple numeric scales from 4 to 7.
A few years back, Trasco has registered a new armoring solution Anti-Kidnapping or A-KIP. It was equivalent to the 4th armoring level. This solution can be used in almost all types of street-legal armored luxury SUVs, sedans, or sports cars. Similarly, companies can outfit Porsche, Ferrari, BMW, Bentley, Mercedes-Benz, or Aston Martin luxury armored cars with this special lightweight armoring.
2. What Vehicles Models are Luxury Armored Vehicles Based Upon?
Luxury Armored SUVs: These models are created using the Rolls-Royce, Aston Martin, BMW X7, and Lamborghini Urus.
Sedans: Sedans are most often build around the BMW 7-series, Maybach, Audi A8, and Mercedes S-class.
Armored Stretch Limousines: These models are based on BMW and Mercedes-Benz cars.
Sports Car: Sports cars are rarely found in the squad of armoured luxury vehicles.
3. Do Armored Luxury Cars Come with Special Interior Equipment?
The simple answer is yes, these cars contain some special luxury equipment. Different vehicle manufacturing companies install special luxury equipment based on client's requirements and wishes. For example, companies can add a special leather interior, partitioning walls with sliding LED-screens for passenger cell, automatic fire extinguishing systems, sliding armored sunroofs, or some other general system upgrades.
Most Expensive Armored Cars
Luxury armored cars look like ordinary cars. However, they are protected with special sheets behind the scenes. Instead of ordinary glass, they have a bulletproof glass or bullet-resistant glass to protect the passengers. Some cars also have anti-blast seats to protect the passengers.
Extremely strong materials are used in the manufacturing of these armored cars that can withstand bullet penetration. Further, these armored cars are designed in such a manner that they don't lose their identity and hide all safety factors.
Due to the robust materials, the price of the armoured vehicles goes too high. Here are a few most expensive armored cars:
1. Cadillac One "The Beast"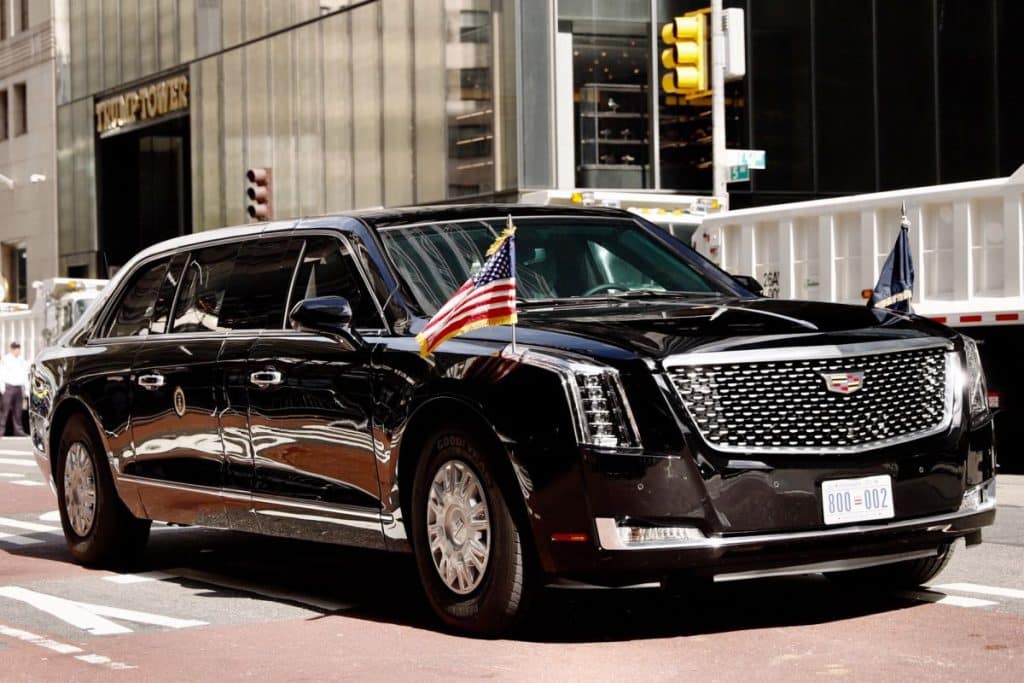 It is an iconic armored car as it has been used by the President of the USA. Although it isn't massive in size, ammunition carrying capacity makes it "the beast". It contains a lot of common security features like oxygen supply and fuel tank protection. However, its encrypted communication system makes it unique from all other armored cars. The total cost of "The Beast" is around $1.5 million.
See Our Armored Cadillac Models For Sale!
2. Mercedes Benz G63 AMG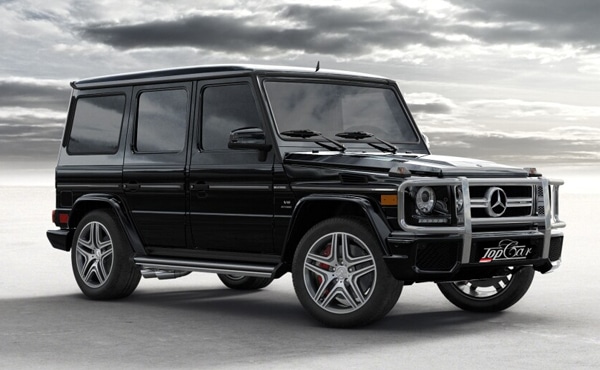 Mercedes Benz G 63 AMG is another one of the most robust armored vehicles. Its black matte leather interior, surveillance cameras, bullet-resistant exterior, power battery, and customized lights take it to the next level. But its floor is extremely safe that can withstand any explosion and hand grenades. Its cost is around $1 million.
See Our Armored Mercedes Benz Models For Sale!
3. Audi A8 Security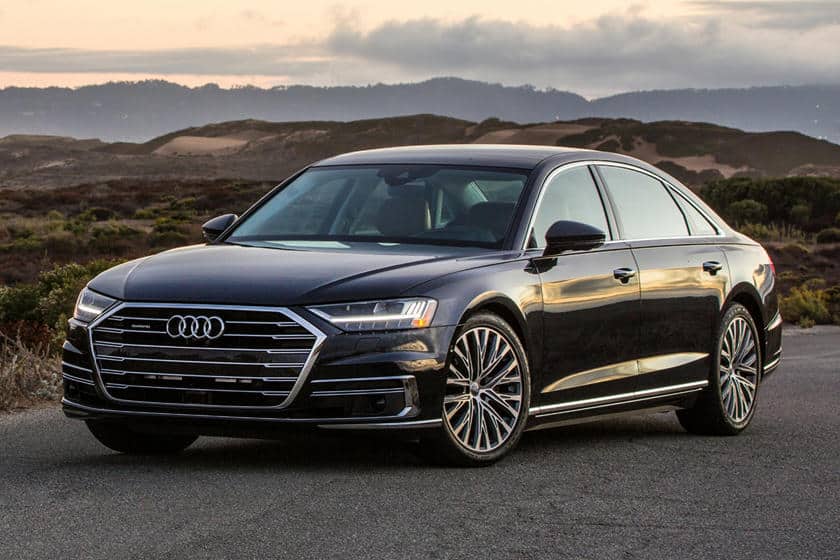 Audi armored vehicles are popular for security with style and one of the most expensive armored cars in the world. This luxury car can withstand almost anything fired at it. Special aluminum alloys and bulletproof materials are used to manufacture this masterpiece. Audi A8 Security is certified by the German Ballistics Testing Center or GBT for VR 7 ballistic standard. Personal Assistant System (PAS) can be customized in this car to communicate with people outside the car. Its total price is around $700K.
See Our Armored Audi Models For Sale!
4. Knight XV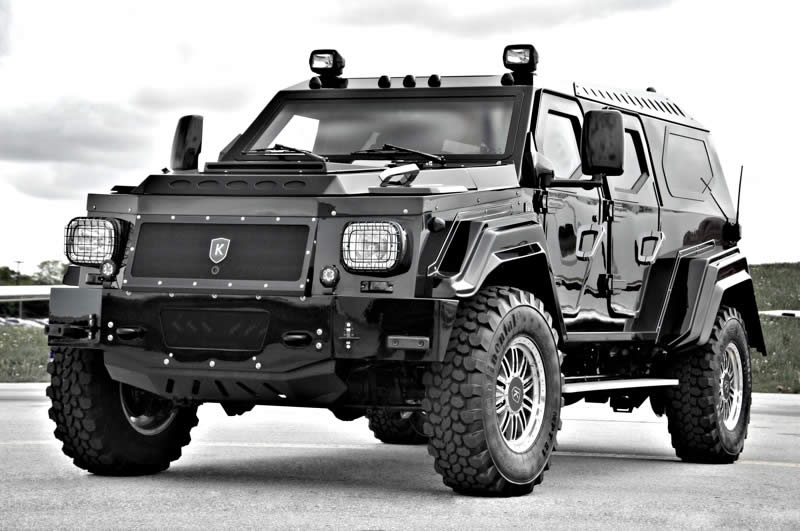 Knight XV is an armored luxury SUV. The interesting thing about this vehicle is that there are only 100 vehicles of this kind in the world. This luxury armored SUV has a beautiful design and comes with a V10 engine. It is made of Kevlar, a composite of aluminum and steel. Knight XV contains a stunning luxury hotel room with different satellite TV. It costs around $629K.
5. Mercedes-Benz S-Guard 600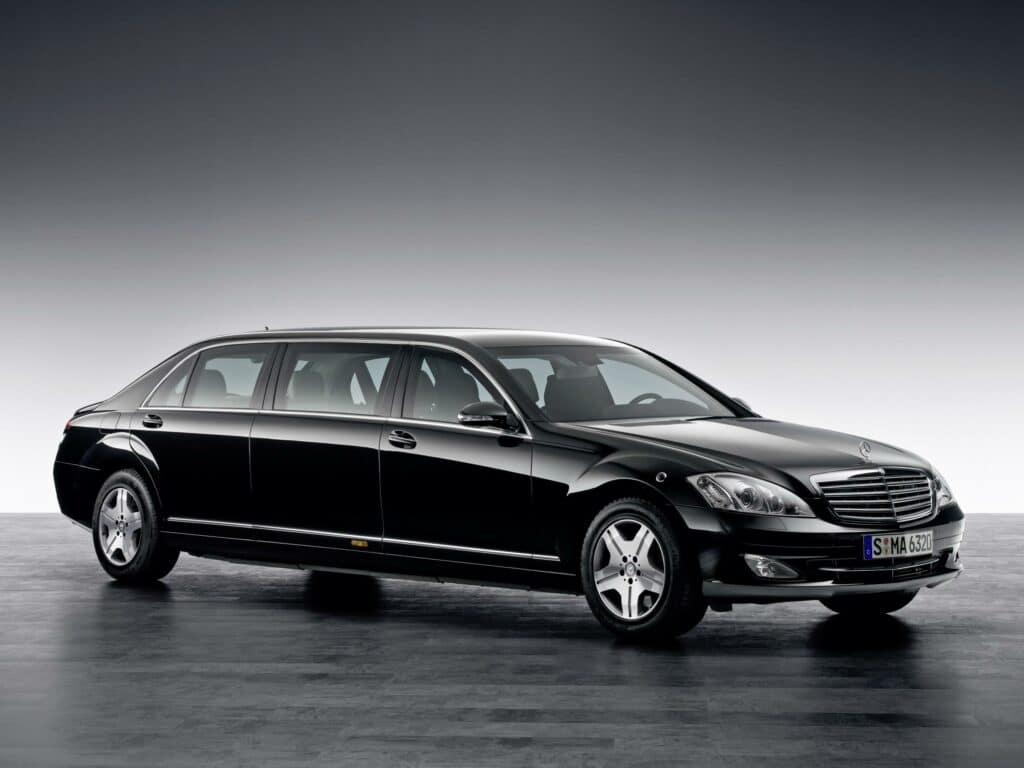 Mercedes Benz is one of the luxurious brands in the world of armored vehicles. It was the first model of Mercedes Benz that captured the armor market. S-Guard 600 is capable to repel deadly projectiles such as fire from M60 machine guns. This vehicle has its own oxygen system that delivers fresh air inside the car in case of any gas attack. This armored car is available at $400K.
Frequently Asked Questions
So far, we have covered different aspects of luxury armored vehicles. Let's answer some of the frequently asked questions…
Can civilians buy armored vehicles?
In the past, the use of armored vehicles was only limited to military personal, banks, and heads of states. Today, anyone can buy them because safety is a right of everyone. However, the design of civilian armored vehicles is totally different from military vehicles.
Civilians' armored vehicles look like ordinary cars. So people can't easily differentiate between the two. That's why many people don't know that civilians can also buy luxury armored cars.
In simple words, it's completely legal for civilians to armor their cars. There is no law saying civilian bulletproof or armored vehicles are illegal. Everything is legal until prohibited. Therefore, civilians can buy armored vehicles! We at Armormax are THE armoring authority – get in touch & see what we can offer for your specific needs!
How much does an armored car cost?
The prices of armored cars depend on multiple factors. For example, the cost depends on the level of armoring or security. If you want to prevent yourself from a high powered rifle and explosive devices, it will cost more than a car that can protect only from handguns.
If you want to customize some features in your armored vehicles, it will cost more. For example, if you want to add an automatic fire distinguishing system or sliding armored sunroofs, you will have to pay more. Armored car cost also depends on the model of the vehicle. Some vehicles take more time to armor so they will cost more.
What's the best armored car in the world?
It is very difficult to choose the best of the best-armored cars in the world. Any armored vehicle that fulfills your need is the best for you. Almost all companies offer a customizing option for your vehicle so you can customize your vehicle according to your requirements.
We have already mentioned the 5 most expensive armored cars in the world. Mercedes-Benz S-Guard and BMW 750 Li Sedan are the best options you can go with. Additionally, here you will find the Top 5 Most Incredible Civilian Armored Vehicles and the Top 10 Safest Cars in the World.
What is the most indestructible car?
All 5 vehicles mentioned in this article are more indestructible cars in the world. Still, it is extremely difficult to find out the most indestructible car in the world. However, DartzKombat T98 is a luxury armored SUV that is one of the robust armored vehicles. It is commonly known as "the Prombron".
You'd have most possibly seen it on the roads of Europe and Russia for their political figures and princes. It comes with extra thick steel-plated doors and bullet resistant windows to repel any rifle. This humongous vehicle costs around $1.5 million.
Final Words
Being secure is everyone's basic right. Therefore, luxury armored vehicles are available for everyone range from banks to military personal and from celebrities to the head of states. These vehicles can withstand bullets, bombs, and other types of ferocious attacks. However, you will have to pay a hefty amount range from $300K to 1.5 million. Above all, the use of such vehicles is completely legal.