This week we heard the news about Tom Brady selling his beloved converted Escalade (non-armored) for around $300k. In the news, Mr. Brady talks about how he can hop in and get away from the world to have a quiet spot to either work or spend more quality time with his family while he is driving.  
We receive many requests about armoring these converted vehicles and love how they turn out. With the new media swirling about buying a piece of Tom Brady Inc. rapper Meek Mill responded that he has a bulletproof Escalade and is willing to sell it for the right price.
Here is how the story happened.
Our favorite sports show host Pat McAfee did a story and tweeted about Tom Brady selling his Escalade. Upon seeing the tweet Meek Mill tweeted, "Mines bulletproof y'all can get it for 200k who wants it."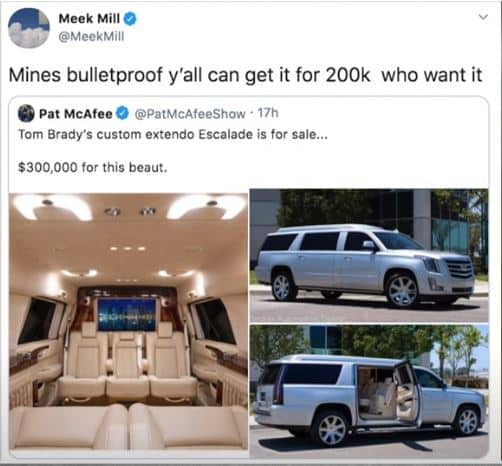 Here at Armormax® we have a variety of armoring packages including a lot under $200k.
In today's environment, more and more people are trusting Armormax® with their lives as they drive, seeking security and peace of mind.
As DailyCaller.com and multiple other reports about the armoring go:
"They're expensive but worth it. They're pretty much tanks disguised as SUVs. If I ever find myself with several million dollars sitting around, you best believe I'll have a fleet of them."
If Pat McAfee ever wants to drive around in an armored SUV (aka: disguised tank) to experience what it feels like for himself we have the key ready for him. We will even deliver it!
Contact us at 801-393-1075 or email us (contact page here) when you want your Cadillac Escalade bulletproofed or upgrades with our technology.