Is the Mercedes Maybach bulletproof?

While Mercedes Maybach vehicles don't come standard with armor protection, the new Mercedes-Maybach S600 Guard offers vehicle armor. The Maybach Guard comes at a steep price starting at $518,000. Armormax® offers several bulletproof protection levels to increase the safety level of the vehicle at a fraction of that cost.
The Mercedes Maybach is one of the nicest VIP transport vehicles on the market. From its ultra sleek exterior design, to the magnificence of its interior comfort, Maybach is one of the best all-around luxury vehicles. It also has some amazing interior features such as massaging seats, cabin fragrance controls and even a fridge. The Maybach is not just about looks and features, it has a 4.0L V8 biturbo engine with EQ Boost. The powerful engine provides it with the necessary speed to escape dangerous situations. Maybach is offered in 2 models, the S-Class sedan and the GLS SUV. Applying vehicle armor to a Mercedes Maybach is a common practice due to the high-importance of the clients that use them as transport. Because of how nice these vehicles are, it is recommendable to have them armored.
Armormax® offers armoring packages ranging from high powered hand gun protection all the way up to heavy assault rifle protection. Armormax® can install armoring packages on any non armored Maybach model. An Armormax® protection package provides peace of mind by using industry leading technology to keep you safe. To take a look at a bulletproof Mercedes Maybach that has been armored by Armormax®, click here. For more information on how to get your armored Maybach, contact us today.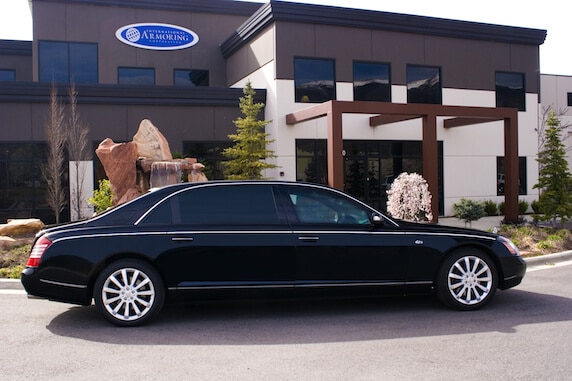 More about the Maybach
The price of an armored Maybach depends a lot on the desired level of protection. The price range can be anywhere from $40,000 to $90,000+. Contact us with any questions and to request a quote.
That is dependent on both the desired armor package and which Mercedes vehicle is going to be armored. Contact us with any questions or for an exact quote.