Are you interested in booking your armored Ford Bronco? We are here to help you go through how you can start the process so you can be first to receive the new 2021 bulletproof Ford Bronco with the Armormax® features you want included (see options here). We can help you make a reservation (and we already have reservations available) on one of the most anticipated off-road vehicle coming out in 2021. Below, we've shared our insights about the new Ford Bronco, along with what you need to do to reserve it. Read on to find everything you need to know about reserving your armored Ford Bronco.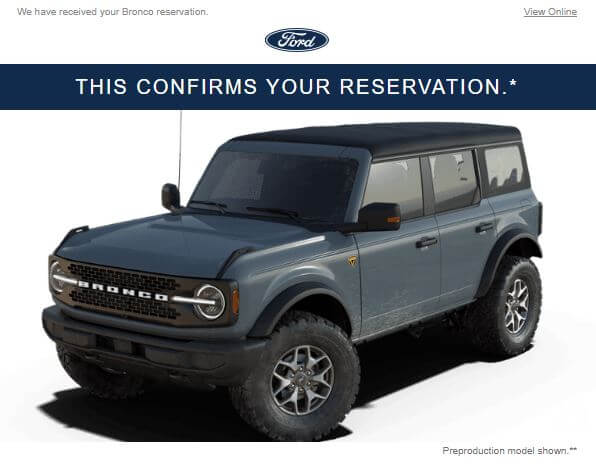 New Ford Bronco: How is it different?
The bulletproof Ford Bronco has seven distinct trims to opt from. And you should know that the trim you select will determine which package is available to you. The main Ford Bronco packages are:
Standard – it comes with LED headlight, black door handles, fender flares and tie-down hooks, mirror caps, and push-button start

Mid – it comes with footwell lighting, automatic dim for the rearview mirror, several driver assistance settings and Reverse Sensing System

High – it comes with all the particularities of the mid package, plus a center touchscreen a 360-degree camera and professional sound deadening materials

Lux – it comes with all the features of the previous three packages, plus adaptive cruise control, a sound system, a subwoofer, a heated steering wheel, Evasive Steering Assist, and a voice-activated touch screen

Sasquatch – it is one of the most interesting packages thanks to the 17-inch black-painted aluminum wheels, 35-inch mud-terrain tires, professional clearance suspension, and shock absorbers, and qualitative fender flares
You can call or email for details of the new Ford Bronco here. We are so excited to "bulletproof" these and you can see a review of the features before armoring here:
How to reserve all-new upgraded Ford Bronco?
All you need to reserve the armored Ford Bronco is your name, phone number, email address, and a valid credit card to put your $1,000 reservation on for the Bronco and armoring materials reservation.
After confirming your reservation, you can start reserving your 2021 Bulletproof Ford Bronco. Make sure you include all your preferences in the configurator, to receive the car spec'd as you wish. Armormax® will handle everything from the car reservation to delivery when the armored Ford Bronco is completed.
When you call and 'Reserve Now', you will be asked for personal details, such as your name, address, phone number, and so on. Also, you will have to agree with the Reservation Terms and Conditions. After completing the reservation and payment you will be sent a confirmation email. More details will be sent once we have the vehicle under production and delivery times of when the bulletproof Ford Bronco will be sent to you.
You have now reserved your new Ford Bronco.
Final Thoughts…
The newly upgraded Ford Bronco has garnered a lot of attention from both the media and clients. And there is no wonder it became one of the most wanted cars of 2021. Reserving your 2021 bulletproof Ford Bronco will get you your personalized car delivered right from Armormax®. Besides, you can add all the features you want from our smoke screen to shocking door handles, to make the 2021 Ford Bronco even that much better. We encourage you to reserve the armored Ford Bronco, to make sure you receive the vehicle of your dreams!
If you would like to order from your local dealership, this video explains how to do that as well.