International Armoring Corporation has been a leader in the development and manufacturing of mobile bomb and blast suppression technologies since 1993.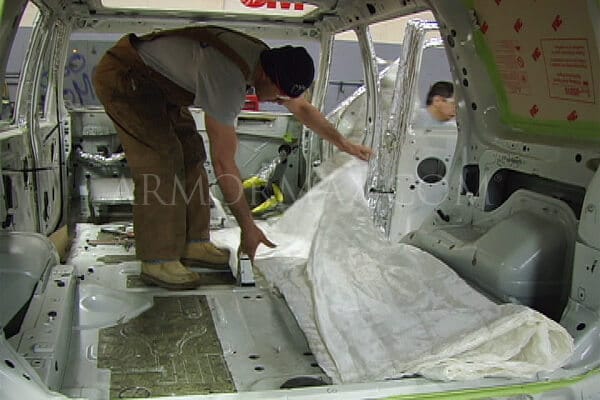 With today's ever-evolving threats and the increasing demand for mission-specific bomb-blast protection, International Armoring can custom design and develop blast suppression packages to meet your specific needs.
We specialize in manufacturing custom-tailored blast suppression and bomb blankets for:
Aircraft
Maritime
Transport vehicles
Light Armored Vehicles
Armed Services Personnel
High-value Assets
Tactical Command Centers
Embassy Staff
Government and Non-Government (NGO) facilities
Bomb Blankets Saving Lives
Bomb Blankets are used for blast mitigation and minimizing the risk of secondary fragmentation from Improvised Explosive Devices (IEDs). They are effective against most pipe bombs, hand grenade fragments, fragmentation caused by pressure, and electrical explosions.
Utilizing the latest in Aramid and Armormax™ technologies, International Armoring manufactures bomb blankets by stitching layers of Armormax™ with other proprietary materials, providing a lightweight, flexible bomb suppression blanket that better absorbs the blast impact and resulting fragmentation minimizing blast impact.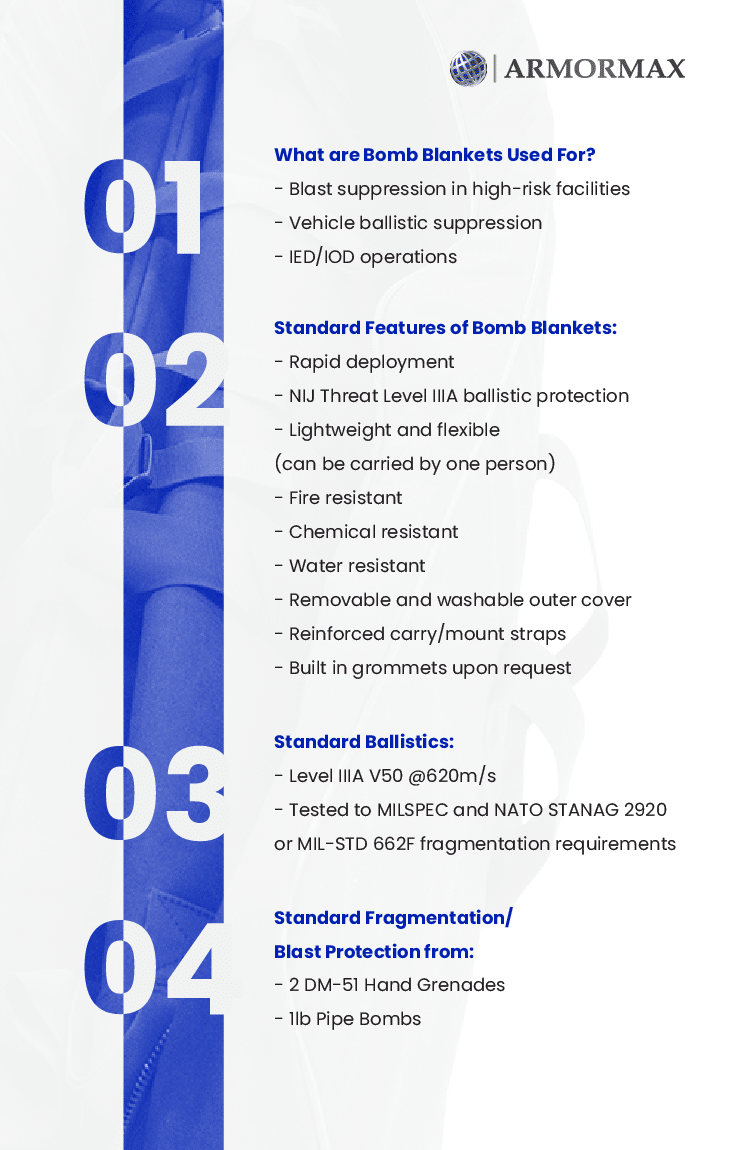 Bomb Blankets are also used for
IED/IOD operations
Demining operations
Blast suppression in nuclear facilities, high-risk government, and non-government buildings
Ballistic-blast protection in vehicle and aircraft interiors and flooring
Standard Features
Rapid deployment
NIJ Threat Level IIIA ballistic protection
Lightweight and flexible (can be carried by one person)
Fire resistant
Chemical resistant
Water-resistant
Removable and washable outer cover
Reinforced carry/mount straps
Built-in grommets upon request
Level IIIA V50 @620m/s
Tested to MILSPEC and NATO STANAG 2920 or MIL-STD 662F fragmentation requirements
Standard Fragmentation/Blast Protection from
2 DM-51 Hand Grenades
1 lb. pipe bombs
Learn more here: https://armormax.com/ballistic-products/bomb-blankets