About Armormax

There are a number of armored car companies throughout the world that we have seen come and go over our 28-year history.
Since 1993 International Armoring Corporation (IAC) is one of those armoring companies that has produced over 8,000 quality armored vehicles using the lightest weight armoring in the industry.
The future looks bright as we continue to expand and work with trustworthy individuals and groups throughout the world.
You can learn more about our armored car company at armormax.com
Here are some Armormax company highlights in the last 20 years: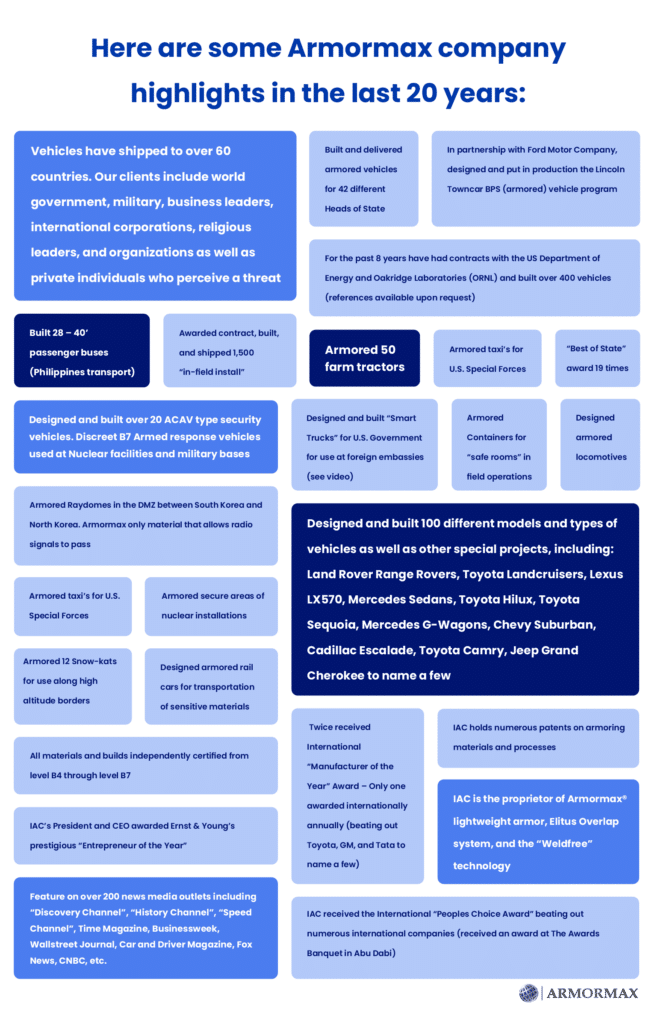 Currently, IAC has 7 manufacturing plants and 12 service facilities worldwide.
Vehicles have shipped to over 60 countries. Our clients include world government, military, business leaders, international corporations, religious leaders, and organizations as well as private individuals who perceive a threat.
Built and delivered armored vehicles for 42 different Heads of State
For the past 8 years have had contracts with the US Department of Energy and Oakridge Laboratories (ORNL) and built over 400 vehicles (references available upon request)
In partnership with Ford Motor Company, designed and put in production the Lincoln Towncar BPS (armored) vehicle program
Built 28 – 40' passenger buses (Philippines transport)
Awarded contract, built, and shipped 1,500 "in-field install" armored kits for Military Hummer.  Trained in Kuwait and consulted with in-field units on installation procedures
Designed and built 100 different models and types of vehicles as well as other special projects, including:
Land Rover Range Rovers, Toyota Landcruisers, Lexus LX570, Mercedes Sedans, Toyota HiLux, Toyota Sequoia, Mercedes G-Wagons, Chevy Suburban, Cadillac Escalade, Toyota Camary, Jeep Grand Cherokee to name a few
Designed and built "Popemobiles"
Designed and built over 20 ACAV type security vehicles. Discreet B7 Armed response vehicles used at Nuclear facilities and military bases (see pictures)
Armored Raydomes in the DMZ between South Korea and North Korea. Armormax only material that allows radio signals to pass
Armored 50 farm tractors
Armored 12 Snow-kats for use along high altitude borders
Armored taxi's for U.S. Special Forces
Designed and built "Smart Trucks" for U.S. Government for use at foreign embassies (see video)
Armored Containers for "safe rooms" in field operations
Armored secure areas of nuclear installations
Designed armored rail cars for transportation of sensitive materials
Designed armored locomotives
All materials and builds independently certified from level B4 through level B7
U.S. Government's "2008 Sub-Contractor of the Year" (one-time award)
"Best of State" award 19 times
Twice received International "Manufacturer of the Year" Award – Only one awarded internationally annually (beating out Toyota, GM, and Tata to name a few)
IAC's President and CEO awarded Ernst & Young's prestigious "Entrepreneur of the Year"
IAC received the International "Peoples Choice Award" beating out numerous international companies (received an award at The Awards Banquet in Abu Dabi)
IAC holds numerous patents on armoring materials and processes
IAC is the proprietor of Armormax® lightweight armor, Elitus Overlap system, and the "Weldfree" technology
Feature on over 200 news media outlets including "Discovery Channel", "History Channel", "Speed Channel", Time Magazine, Businessweek, Wallstreet Journal, Car and Driver Magazine, Fox News, CNBC, etc.