Police worldwide use different types of vehicles to maintain law and order. About 250,000 to 300,000 vehicles are used by police departments in the United States, operated by police departments, federal agencies, highway police, and sheriffs.
These vehicles include different types of cars, from SUVs to sedans. In the US, almost any car can be used for police service. However, manufacturers like Dodge, Chevrolet, and Ford build and deliver armored police vehicles for sale too.
Most Popular Models of Police Vehicles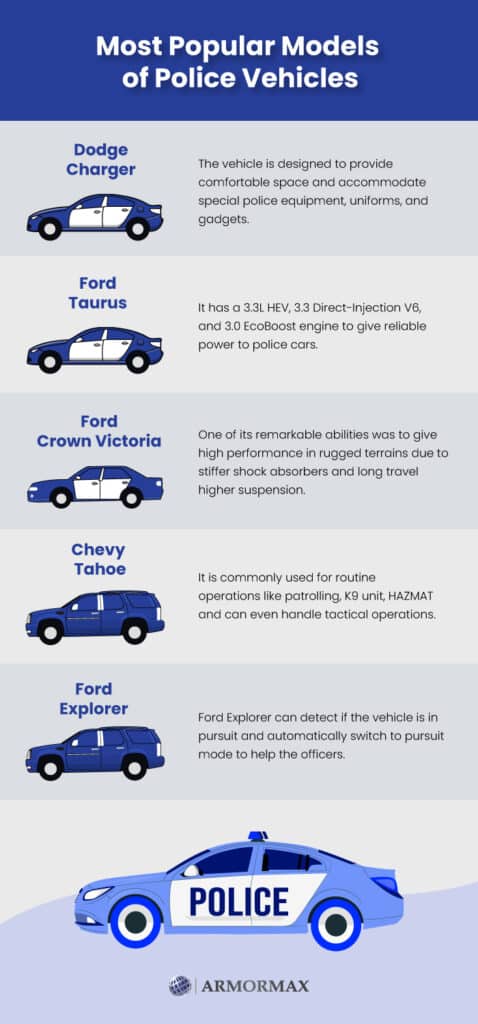 The primary purpose of police cars is to provide greater durability and safety to law enforcement officers. All police cars are built differently from the regular versions. They have modified engines to provide more power in a chase and off-road drive and have tinted windows to hide the officer's identity. The new cars also come with bulletproof windows to protect the officers.
Here are some of the most commonly used police vehicles:
Officers are more than ready to take down criminals, thanks to the addition of more powerful and reliable cars like the Dodge Charger. The 2022 Dodge Charger Pursuit is specifically designed for law enforcement agencies.
The car is equipped with a 3.6L Pentastar V6 engine that can deliver up to 300 horsepower or a 5.7L Hemi V8 engine that can give up to 370 horsepower. It also has high security and safety features, which include ballistic door protection and a secure park feature that enables brake transmission switch interlock to prevent transmission from shifting out of the park when engaged.
The vehicle is designed to provide comfortable space and accommodate special police equipment, uniforms, and gadgets.
Ford Taurus Interceptor is a popular car used by police across the United States. It has a 3.3L HEV, 3.3 Direct-Injection V6, and 3.0 EcoBoost engine to give reliable power to police cars.
Moreover, it is also one of the fastest cars in the police fleet reaching 60 mph in 6.7 seconds and having a top speed of 150 mph. Unfortunately, Ford halted the Taurus production in 2019, but the cars are still in service in many states.
The Ford Crown Victoria Police Interceptor is a four-door sedan designed for law enforcement. The iconic police interceptor offers a massive trunk to store goods and equipment. Ford stopped the production of Crown in 2011, but it remained in service for a long time.
Crown Victoria was a heavy car with a considerable size due to its high durability, which is why many of them ended up as cabs. It has a high-capacity alternator and external oil coolers to keep the driveline temperature in low-speed patrols and high-speed chases.
One of its remarkable abilities was to give high performance in rugged terrains due to stiffer shock absorbers and long travel higher suspension, making it an inch higher than the civilian variant.
Chevrolet designed the first Tahoe Police Pursuit Vehicle (PPV) and Special Service Vehicle (SSV) by using the standard SUV design as inspiration. It is commonly used for routine operations like patrolling, K9 unit, HAZMAT and can even handle tactical operations.
It has a powerful 5.3L V8 engine that delivers 320 horsepower. Also, it has power driver seats to accommodate officers with their duty belts. Tahoe helps officers to work in challenging terrains with Electronic Stability Control System and Traction Control.
Tahoe PPV is lower to the ground than the standard version, offering more control in high-speed pursuits. Moreover, it has fuel-efficient systems to consume less fuel.
The Ford Explorer is the fastest police car sold up till now. The Michigan State Police test showed Explorer could reach 60 mph in just 5.5 seconds. It has a 400 horsepower twin-turbo 3.0L V6 engine and can reach 100mph in 13.5 seconds
The V-8 variant can reach up to 139mphs under a mile. It also has a good turning radius which is beneficial in emergencies and pursuits. Ford has designed the Full-Time Intelligent AWD for the police interceptor to calibrate to complement pursuit driving.
Ford Explorer can detect if the vehicle is in pursuit and automatically switch to pursuit mode to help the officers.
It's not just police departments that are looking to protect their vehicles, civilians try to do the same. Get information on MRAP vehicles to learn more.