In many parts of the world, violence remains a daily threat for many people. Kidnappings, robberies, and corruption can appear to be commonplace. In places like Brazil, Nigeria, and South Africa, the murder rate can range from 15,000 to over 50,000 a year. Many wealthy families are concerned about being targeted for their money or ransom.
Until recently, a family car with armoring with bullet-resistant panels and ballistic glass windows seemed only available to the extremely wealthy. However, due to advances in technology, armored cars are more affordable than ever. International Armoring Corporation and Armormax are looking for partners to work on a worldwide leasing and rental program. The program would provide protection on ordinary passengers and have use cases for a variety of industries.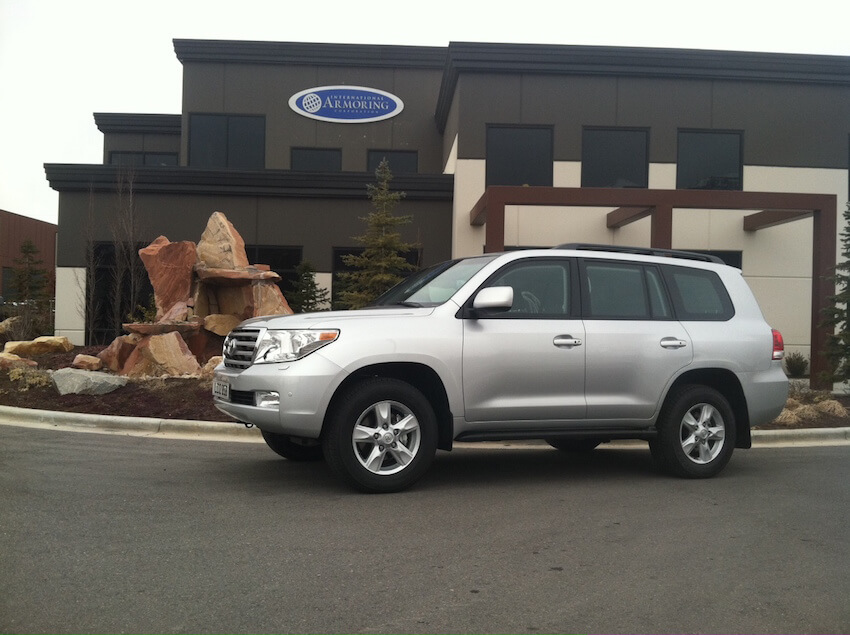 Our primary objective is to provide security and peace of mind to our clientele by providing the most reliable and safest armored passenger vehicles in the world. We also want to reach as many people as possible at an affordable price. A person can lease or rent an armored vehicle to best suit their needs.
Our armored vehicle lease program would be designed to provide a real benefit to thousands of new individuals who may not need an armored vehicle every day but would be available as they travel to and from an airport or in specific parts of the world as they would travel around dangerous regions.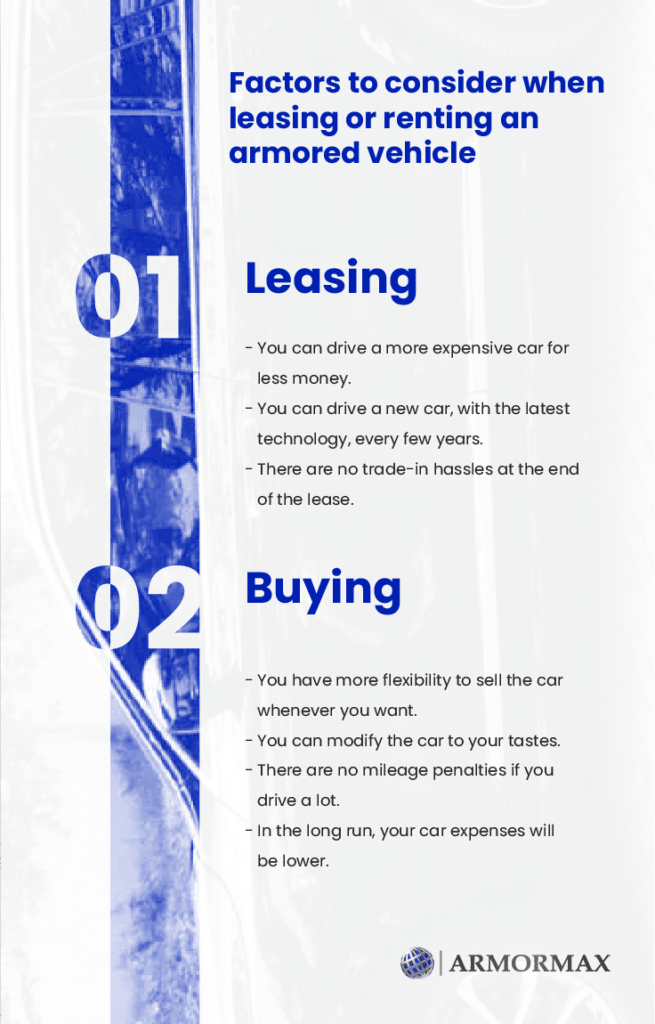 Unless you're paying cash for your car, you'll need to think about financing your purchase or lease. How much can you really afford to allocate toward a car payment each month? The general rule is no more than 20 percent of your monthly take-home pay.
Leasing and buying each have pros and cons, and how you feel about these may help guide your decision on whether to lease or buy.
For example, a lease requires little or no money down and offers lower monthly payments. But when the lease ends, you have no car and will need to go shopping again. On the other hand, buying a car is more expensive initially, and the monthly payments are higher. But when you pay off the loan, you will own a car that you can drive for as long as it runs.
Here are a few more factors to consider while deciding between leasing or renting an armored car in 2021:
Leasing
You can drive a more expensive car for less money.
You can drive a new car, with the latest technology, every few years.
There are no trade-in hassles at the end of the lease.
Buying
You have more flexibility to sell the car whenever you want.
You can modify the car to your tastes.
There are no mileage penalties if you drive a lot.
In the long run, your car expenses will be lower.
In a recent interview CEO, Mark Burton said. "the bulk of our products are purchased outside the U.S.," Burton said, noting that Nigeria is a high-demand market, along with other countries in Africa, eastern Europe, Southeast Asia, and the Middle East.
International Armoring takes pride in fortifying family-type cars without destroying their looks and performance along with making them available to as many people that need armored cars.
Windows get replaced with 2-inch thick glass that is detectable only when the doors are open. The passenger compartment is reinforced with steel armor and the lighter Armormax laminate, which a company video touts as having 10 times the strength of ballistic steel, pound for pound.
A nylon explosive-resistant cloth lines the vehicle floor to baffle the impact of explosions from below, the video said, and metal overlaps seal off door openings to prevent angle shots from penetrating.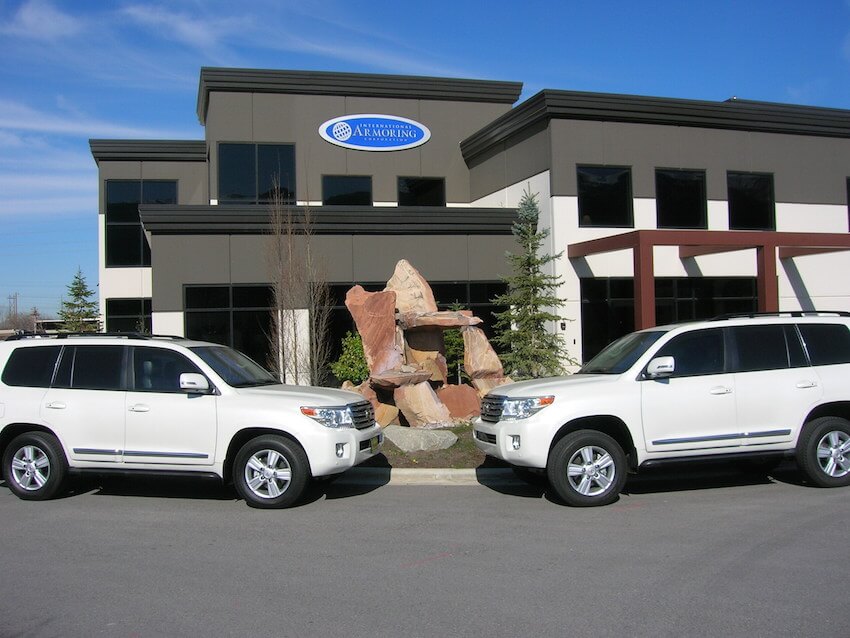 "The goal is to retain the original performance of these vehicles," Burton said of the Hummers, Jeep Cherokees, Range Rovers, F-150 trucks, and smaller sedans that bulk up at IAC's installation sites.
Burton emphasized that his outfitted vehicles are purely defensive in nature.
"These are not tanks," Burton said. "We're giving (our clients) the time to recognize they're being attacked and then to be able to escape a dangerous situation."
And lastly…
Conserve Your Working Capital
100% financing options so you avoid tying up your cash in equipment making it available for operations and unforeseen expenses
Financing options based solely on the equipment purchase while keeping other assets free-and-clear
Off-balance sheet options as to not affect borrowing limits at your bank
Improve Your Cash Flow
Flexible payment schedule with options for seasonal and deferred payments
Flexible term and amortization to meet your cash flow needs
If you are interested in building a fleet or armored car rentals please email m[email protected] to discuss a variety of options in any country.