The demand for bulletproof or armored cars are now higher than ever in the United State. People are needing additional protection and with the news reports of riots and security threats there is a great time to be driving in a bulletproof in the event of something going wrong. In recent years buying an armored passenger vehicle was only  reserved for expensive vehicles and brands with bulletproofing built in, thinking ere are no other options.
With the armoring technology and opportunities available from Armormax®, you can now convert your used car, even if it's a Honda, into a new armored car, and it will work just as well as those expensive brands. If you're looking for a used car to convert, click here.
If you want to know how they actually convert a used car into an armored car, read on.
1. Start With The Doors, Body, And Interior
The first step in converting a used car into a new armored car is to remove all the components attached to the car's body. This includes interior trim, seats, wiring, carpets, etc. After that, the doors and pillars will have to be removed and cut open so they can be stuffed or welded with various materials. If you want full protection for your car, the doors and pillars will be bolstered with Armormax®, ballistic steel, ballistic fragmentation "bomb" blankets, and specialty composites.
As for the floor and ceiling, they are usually lined with ballistic fabrics. The firewall and rear bulkhead can be reinforced with steel plates. The stock bumpers, which are designed to crumple upon impact to absorb energy and minimize your risk of serious injury, can also be reinforced. This will allow your new armored car to bash through improvised roadblocks without damaging the engine, radiator, and other internal parts located at the front of the car.
The primary aim of the first step in armoring your car is to make the car look unmodified or like a traditional car, inside and out.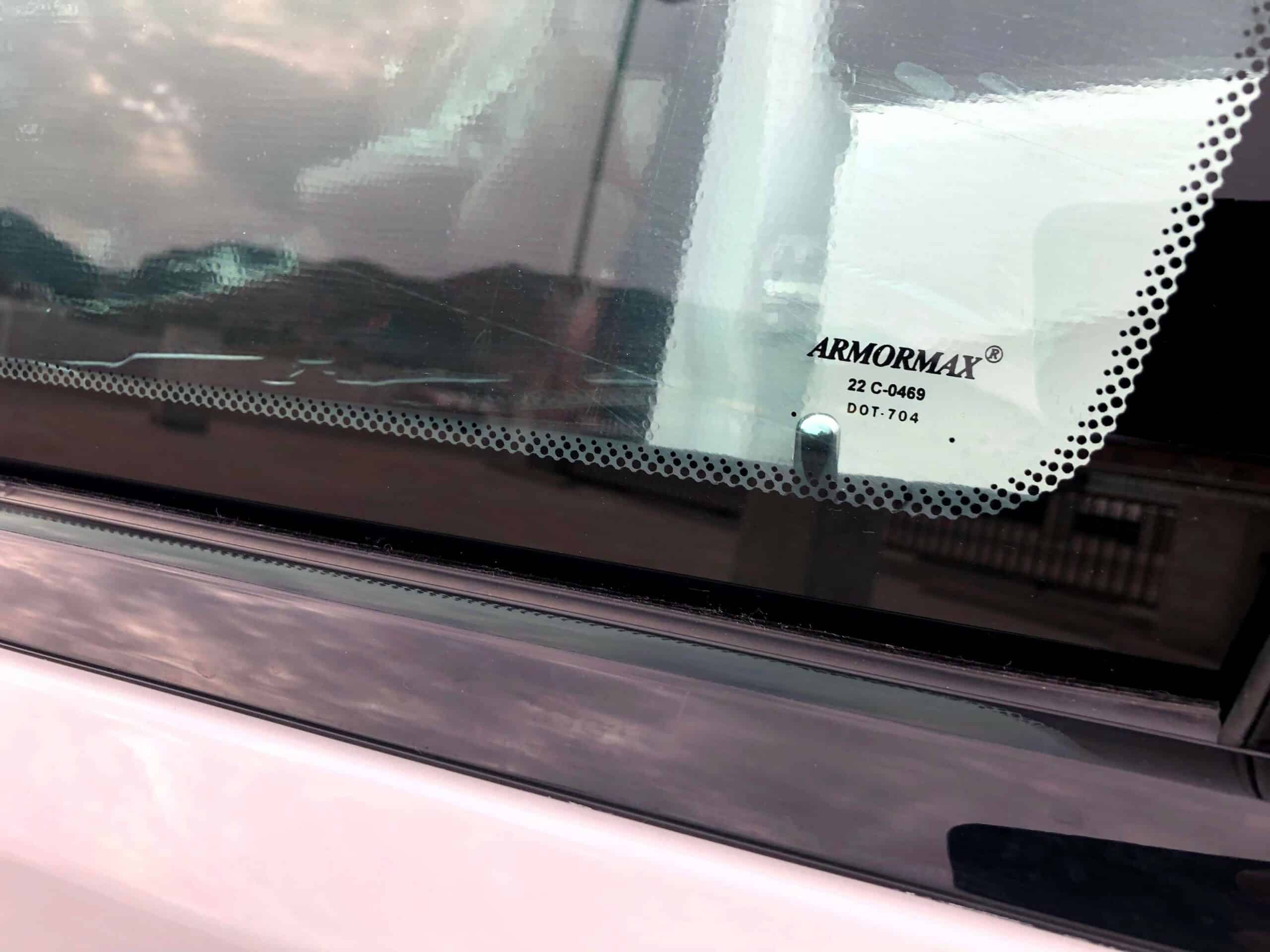 2. Next Up, Armored Glass
One of the most critical parts of bulletproofing a car is the glass. This is what they call "transparent armor" in the bulletproofing industry.
You have to know that the glass being installed in armored cars is not made from the same materials as the safety glass usually installed in standard cars. Bulletproof glass is made from polycarbonate material (a type of plastic) and lead glass.
Depending on the level of protection you want, you can opt to go with a 3/4-inch glass (the thinnest option) which is enough to stop a few rounds from a 9mm handgun; or go with a 2-inch glass (a thicker option) which is enough to stop a single shot from a high-powered rifle.
3. The Tires
Keep in mind that a bullet from a gun moves at high speed and can penetrate anything.  For this reason, tire manufacturers are continuously developing new ways to create tires that can withstand bullets. But big bullets, especially from high-powered rifles, can penetrate through anything. Therefore, manufacturers have to develop bulletproof tires that will withstand and remain effective enough to keep on driving, even if larger rounds hit it. Thick and durable tires are usually enough to deflect small rounds, but only if they're not hit at a steep angle. However, larger rounds and high-caliber bullets will penetrate them.
There is also another option that you can choose to install on your armored car: self-healing tires. They can automatically seal the hole made by a bullet. You can also opt for tires that are designed to keep themselves inflated even if bullets hit them. This will help you reach a safe destination. It's a common option in most bulletproof luxury cars that are being manufactured today.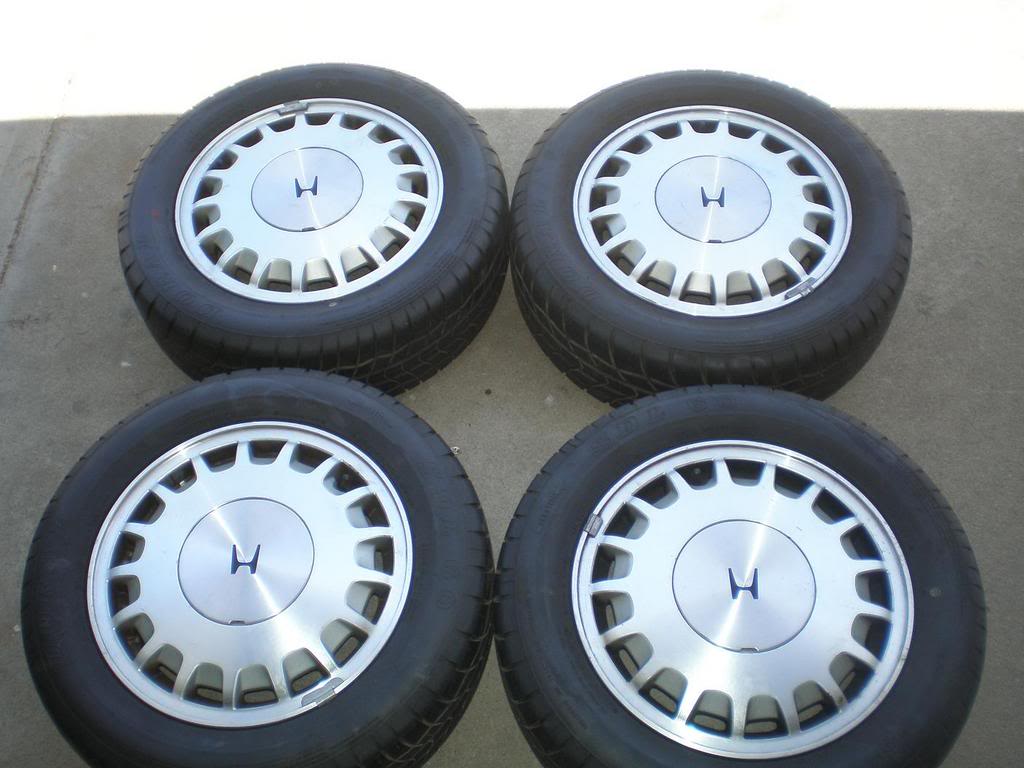 4. Engine And Suspension
If you convert your used car into an armored one, it will naturally become heavier to provide the required protection. Even the basic armoring against handguns or bulletproofing option can add at least 400 pounds to your car. With that in mind, you'll need to modify the chassis and the drivetrain of your car to help it cope with the extra weight that comes included with the Armormax®  package. You can also choose to modify your engine and make it more powerful if you want through third party sources.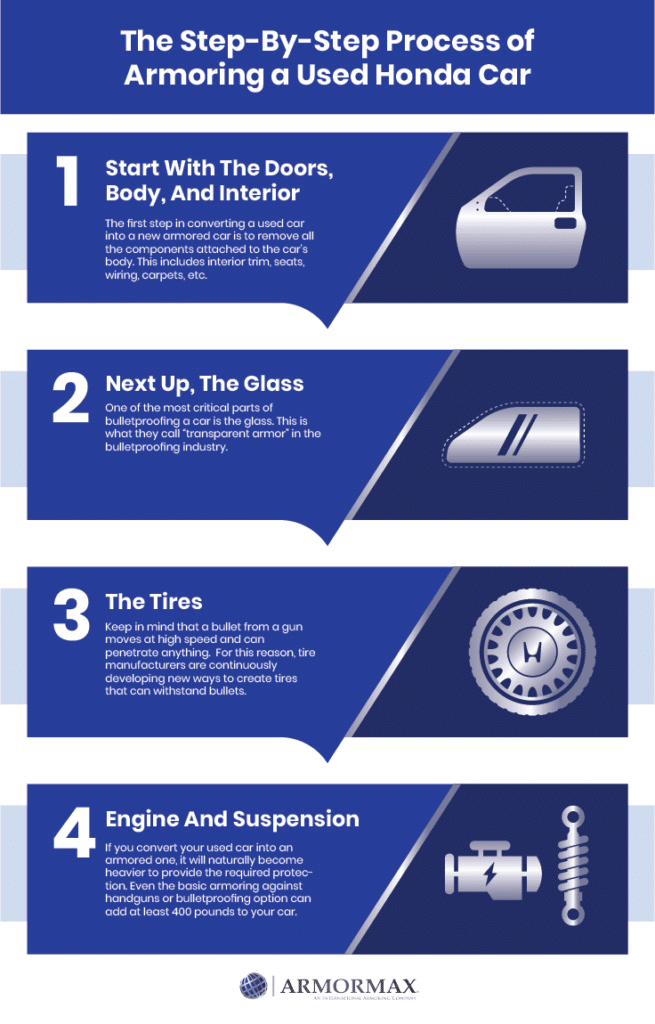 Car Conversions Made Easy
There is no need to shop for expensive brands if you want to protect your family with an armored car. Simply convert a used car or your pre-existing vehicle. You will enjoy protection and peace of mind at a price many people can justify.
The process of converting a used car into an armored one can take several working days to weeks. The technicians will have to ensure that the look and functionality of your car will not be compromised while they are adding armor protection to it. Once they're done, your car will be completely armored but still, surprisingly, look the same as its original factory appearance. See our gallery here.