Asia is the world's largest continent. Grab a world atlas and you'll see there's so much to see and do from tropical beaches, ancient relics, and sprawling metropolises. While most places in Asia are pretty safe, however, some cities can be dangerous for visitors.
Here's our list of the most dangerous cities in Asia…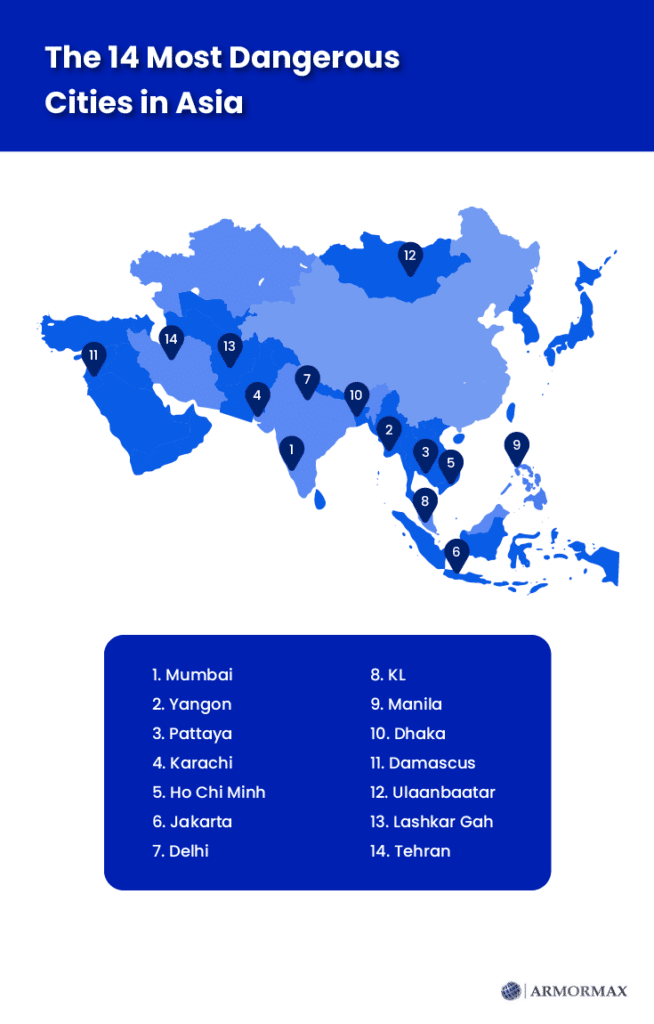 Mumbai
With more than 20 million people, Mumbai is the second most populous city of India. There's plenty for visitors to do here, and the city is quite safe overall, but it still pays to be cautious.
When in Mumbai, it's best to take precautions against pickpockets, scams, and other crimes that help to give the city a crime index of 44.75.
Yangon
With a population of more than 7 million people, Yangon is the largest city in Myanmar. The city is known for its stunning architecture that brings visitors from far and wide, and visitors will get plenty of reminders of the city's rich culture and history.
Myanmar is prone to political upheaval that can turn violent, during which times its best to keep clear. At other times, however, Yangon is a fairly safe city, with a crime index of 46.19.
Pattaya
Pattaya, located about 150kms from the capital Bangkok, is one of Southeast Asia's premier tourist spots. Ideally located for visiting some of Thailand's stunning tropical islands, Pattaya is also known as an adult's playground with a lively night scene and excellent health security.
Crimes like bag-snatching are not uncommon in Pattaya, while organized crime also contributes to a crime index of 48.18.
Karachi
With a population of around 16 million people, Karachi is Pakistan's main financial and industrial center. Karachi's climate, cuisine, and historical sites make the city a pleasant destination for tourists. However, visitors will definitely need to keep their wits about them.
Although tourist areas are mostly safe, there is still a very real risk of robberies. Solo women should be extra careful about rapes, and no visitor should stray from the tourist zones. Karachi has a crime index of 53.36.
Ho Chi Minh
Ho Chi Minh City, formerly known as Saigon, is a modern city emerging as a popular tourist destination. Visitors here will find themselves surrounded by Vietnam's rich history, including reminders about the Vietnam War.
Overall, Ho Chi Minh City is safe for visitors, but there is a need to be vigilant of common crimes like scams and pickpockets that contribute to the city's crime index of 53.60.
Jakarta
Indonesia's capital city Jakarta has a population of more than 33 million people. This makes it the most populous of all South East Asian cities, and the second-largest urban area on the planet after Tokyo. The city has plenty to keep visitors entertained, including a pulsating nightlife.
However, Jakarta is a city prone to violent demonstrations and there's also a risk of terrorism. There's also a medium to high risk of petty crimes like theft, which help give the city a crime rating of 53.72.
Delhi
Delhi is a large city of around 16.8 million people. The city is peppered with stunning architecture that is one of the many reasons why visitors from all over the world flock to the capital.
However, Delhi also has a lot of poverty, resulting in high crime rates, and women need to be especially careful about personal security. The city has a crime index of 59.67.
KL
Kuala Lumpur, known locally as KL, Malaysia's capital city and had a population of around 1.73 million people in 2016. The city is the financial and cultural center of the country and a popular regional tourist destination.
Although physical violence against foreigners is not common, scam artists are rife. Such crimes contribute to a crime index of 64.08, and visitors should be wary of credit card scams in particular, making digital security important.
Manila
Manila, the capital city of the Philippines, receives more than 1 million tourists every year. Rich in sightseeing opportunities, shopping, culture, and nightlife, the city has plenty to offer.
However, the city has very high rates of poverty, with drug abuse common and a high homicide rate. In addition, pick-pocketing and other forms of theft are common here, helping to contribute to a crime index of 64.35.
Dhaka
Dhaka, the capital city of Bangladesh, has more than 21 million residents. Although there are some sights for visitors, Dhaka is not geared up for tourism, and anybody who does visit the city needs to take care of their personal safety.
Crime is high in Dhaka, with poor infrastructure security, and armed robberies are more of a danger in most other places in the world. Dhaka scores 65.08 on the safe cities index.
Damascus
Damascus, Syria is a large metropolitan area and capital of Syria. The country has experienced years of strife and civil war, making it one of the most dangerous places on the planet. Out of all Syria's cities, Damascus has the toughest reputation as far as muggings, robberies, and violent crimes.
Ulaanbaatar
This Mongolian city is infamous for its petty crime, including pickpocketing which is extremely common especially in crowded spaces. From 2017 to 2018 there was a 0.79% increase in crimes throughout the country, with a heavy percentage of them taking place in Ulaanbaatar with a population of 1.45 million.
Lashkar Gah
The Helmand Province is among the most dangerous places in Afghanistan. This southwestern city has a population of 201,546, and many were fearing for their lives during the Battle of Lashkar Gah in July-August 2021 between Afghan National Security Forces and the Taliban.
Tehran
Iran's capital city is known for drug trafficking and the opium trade. But relative to other cities on this list, Tehran is less dangerous. The most common instances of unlawful behavior is corruption and bribery among police officers and public officials.
For more information see the most dangerous cities in Europe and Latin America.