New electric vehicles are dramatically increasing in popularity all over the world because they are environmentally friendly and cost-efficient in the long term, versus conventional combustion vehicles. Some EVs are also noticeably more fun to drive with their instant torque and custom technology throughout the vehicle. The electric revolution is here for the long-term, and is forecasted to offset the carbon footprint of ICE vehicles in the years to come.
Likewise, individuals are increasingly looking to enhance their safety by armoring their vehicles. Armoring electric cars has become a huge business in many countries where the crime rate is very high such as South Africa, Mexico, Brazil, the Philippines as well as in the United States in cities like Chicago, Miami, Dallas, Los Angeles, and of course San Francisco. A few years back, a few models of BMW, Mercedes-Benz, Chevrolets, and Fords were bulletproofed but today the trend is moving toward electric vehicles. Now you can armor all types of electric vehicles depending on your need.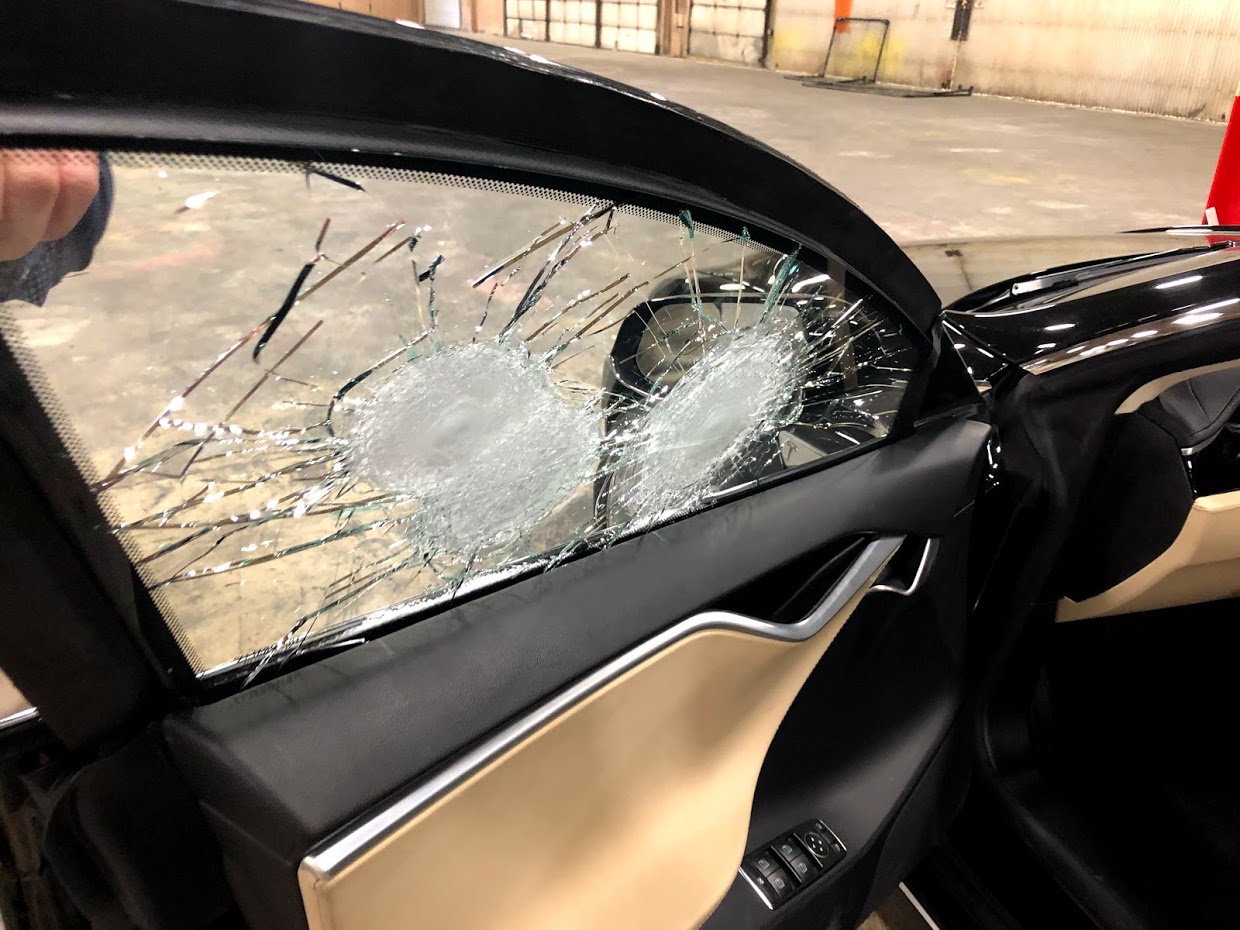 In this article, we will talk about new electric vehicles that have brought an electric revolution. Further, we will suggest some bulletproof packages that can help you become more informed.
Let's get started…
Things You Should Know Before Buying an Electric Armored Vehicle
If you want to buy the armored vehicle of your dream, you must have some basic know-how with the latest armoring technologies and other necessary equipment for modern cars. These things are very helpful when armoring your cars.
1. Special Interior Equipment for Electric Vehicles
All armoring companies install different interior and exterior components depending on their client's requirements. For example, you can install sliding LED-screen for passenger areas, top-notch leather seats, automatic fire extinguishing systems, sliding armored sunroofs, etc.
Some advanced features include a road track dispensing system, a night vision display, concealed reinforced bumpers, etc. You can install a device that emits a smokescreen to protect you from attackers. Run-flat tires are another great option as compared to conventional tires to improve your security – allowing for a needed getaway. You can install various options to assist in your escape while protecting yourself and your family.
2. Armoring Standard of Electric Cars
Companies use different types of armoring standards while manufacturing. These standards define what type of material will be used for the construction of a vehicle. Ballistic Rating or BR is a European classification standard that certifies materials used by their protection level. This is the best standard as it deals specifically with armored vehicles. The level is scaled between B4 to B7 in which B4 is the lowest and B7 is the highest protection level state.
In addition to this, some countries have defined their own armoring standard to rate the armor's protection level. For example, NU is used in the USA, VASG is used in the UK, and VPAM is used in Germany. Similarly, PM4 to PM9 and VR to VR4 are also popular grades used in different countries. Contrary to this, some companies use simple numbers ranging from 4 to 7 to scale the armored vehicle.
BR4 or B4 is for high-powered handguns (44 magnum, 357 magnum, 9mm etc.) while B7 is for armor-piercing high-powered rifles (basically a tank). You can go with any level depending on your particular security needs. Be mindful that the higher the level the more weight will be added and cost will be greater. In addition, some EV's are limited in the level of armored added due to configurations and weight of the armoring materials installed.
How to Bulletproof Your Car?
Armoring a vehicle is not troublesome for a professional company like Armormax. Since 1993, Armormax has been producing bulletproof vehicles and shipping them all over the world (including numerou EV models). All you need to decide what armoring material you want to choose for your vehicle. Each vehicle's part has its own armoring requirements. Let's dive deeper and try to explore how to armor a vehicle…
Doors and Body of an Electric Vehicle
The first and foremost step is to remove all parts of your body including the door panels, seats, carpets, wiring, trim panels such as on the pillar posts and in the quarter areas to adhere various materials into the voids. All the armoring should be done out of sight in the cavities of the vehicle – – never to be seen but there to protect the occupants whenever they are in the vehicle.
Depending on your requirements, pillars and doors are bolstered with synthetic lightweight fiber panels (Armormax) of different thicknesses depending of the level of protection requested. Similarly, you can use Armormax armor for walls and rear bulkhead as well as for the floor and ceiling. Armormax keeps the original appearance and performance of the vehicle while providing the requested level of protection.
Glass
An original glass of an electric car is replaced with bulletproof glass that ranges from ½ to over 3 inches in thickness. Bulletproof glass is a sandwich of acrylic, polycarbonate and leaded glass. The thinnest ballistic glass laminate is sufficient enough to stop a few shots of high-powered handguns. The thicker ballistic glass can stop multiple shots from assault rifles (see our videos section).
Tires
It is recommended that run-flat bands are added when armoring your electric vehicle. Because a bullet can easily flatten conventional tires. As a result, you won't be able to drive your vehicle. You can easily drive 60 miles on a damaged run-flat added wheel at speed of almost 60 mph speed.
Best Electric Cars for Bulletproofing
The market is full of different types of robust armored vehicles. That's why it is very difficult to choose the best of the best vehicle of all. Here, we have enlisted some of the best top-selling vehicles for armoring by Armormax for your ease. Let's talk about the best electric cars to armor…
1. Bulletproof Tesla Model S
When we talk about armored vehicles, Tesla vehicles can't be ignored. Tesla lovers can armor their Model S vehicles to safeguard their families. Tesla Model S is another compelling option for electric vehicle lovers. It can run almost 412 miles on a single charge making it the most suitable option for a long drive. It can carry 4 adults and can sprint up to 60 miles in just 2.4 seconds. On the Plaid Model, Tesla claims speed of under 2 seconds.
The S has passed the crash test by the National Highway Traffic Safety Administration and Insurance Institute for Highway Safety (IIHS). Its key safety features include automatic emergency braking, lane-departure warning, and semi-automatic driving mode.
Armoring this vehicle slightly increases its weight (between 500 – 600 lbs of added weight) and has no significant impact on its performance. The Armormax armored version is nearly identical in appearance as the unarmored version.
a. Tesla Model X
Model X vehicles are equipped with lightweight ballistic materials and their ordinary glasses are replaced with special bulletproof ones. The glasses can withstand multiple shots of bullets with different calibers such as .380, .9, and .22 mm. These can also protect against .44 magnum.
Many people are very concerned with the extra weight of an armored vehicle because it can affect the efficiency of vehicles. Surprisingly, Armormax adds only 600- 650 lbs. and affects vehicles' efficiency by less than 3 percent.
Currently the Tesla Model S and X are the most popular EV's to armor.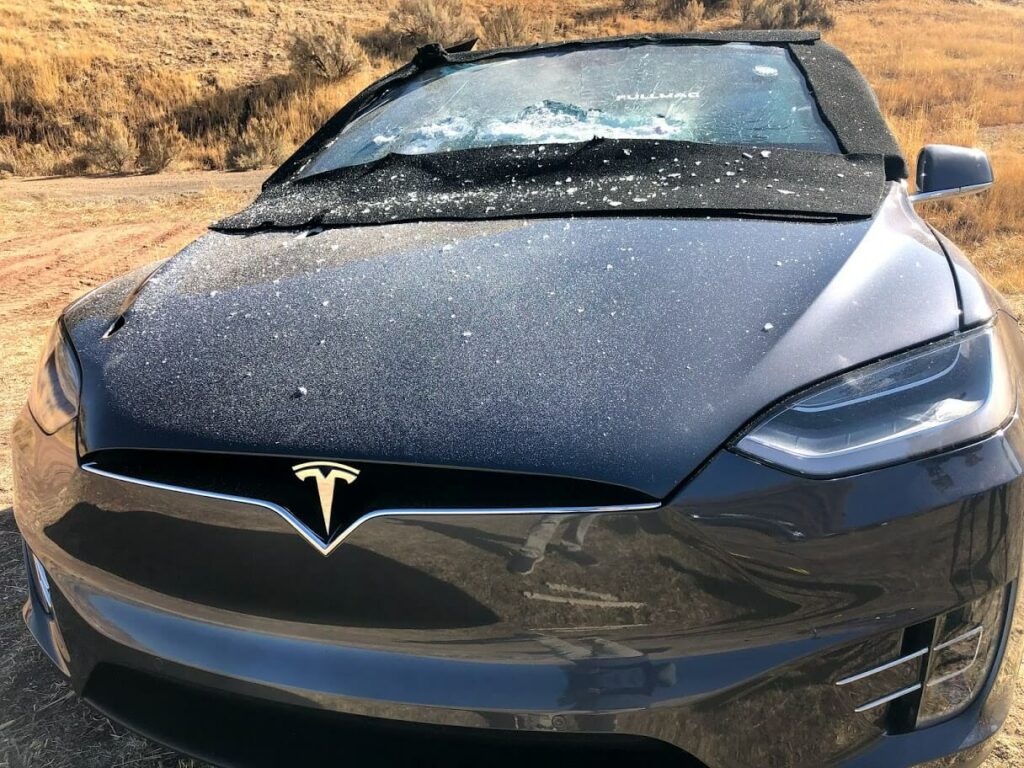 b. Tesla Model 3
Tesla model 3 comes with plenty of different safety features. It has earned 5-star ratings from NHTSA in almost all categories. Further, it has won the top safety pick + award in all crashworthiness and crash prevention categories.
The Model 3 comes with a carbon fiber spoiler that increases its stability at high speed and allows it to sprint from 0 to 60 mph just in 3.1 seconds. It has 360 degrees of visibility and makes your driving burden free. Fortunately, you can armor this vehicle to Level B4 to make it a more protective cocoon for your family.
c. Tesla Model Y
This guide is incomplete without Tesla Model Y due to its eye-grasping appearance and excellent safety features. This versatile model can carry 7 passengers along with their cargo. It offers flexible storage that allows you to move skis, luggage, furniture, and more.
The Y is an all-wheel drive vehicle that is capable to run smoothly in rain, off-road, snow, and mud. It's a fully electric wheel that can be charged overnight at your home. It has many safety features that make your driving extremely convenient. Tesla Model Y has a simple and clear interior, a 15-inch touch screen, and an incredible all-glass roof for a seamless view of the sky. If you are intending to buy a Tesla car, the Y might be the finest option for you. Because you can turn it into a fully armored vehicle.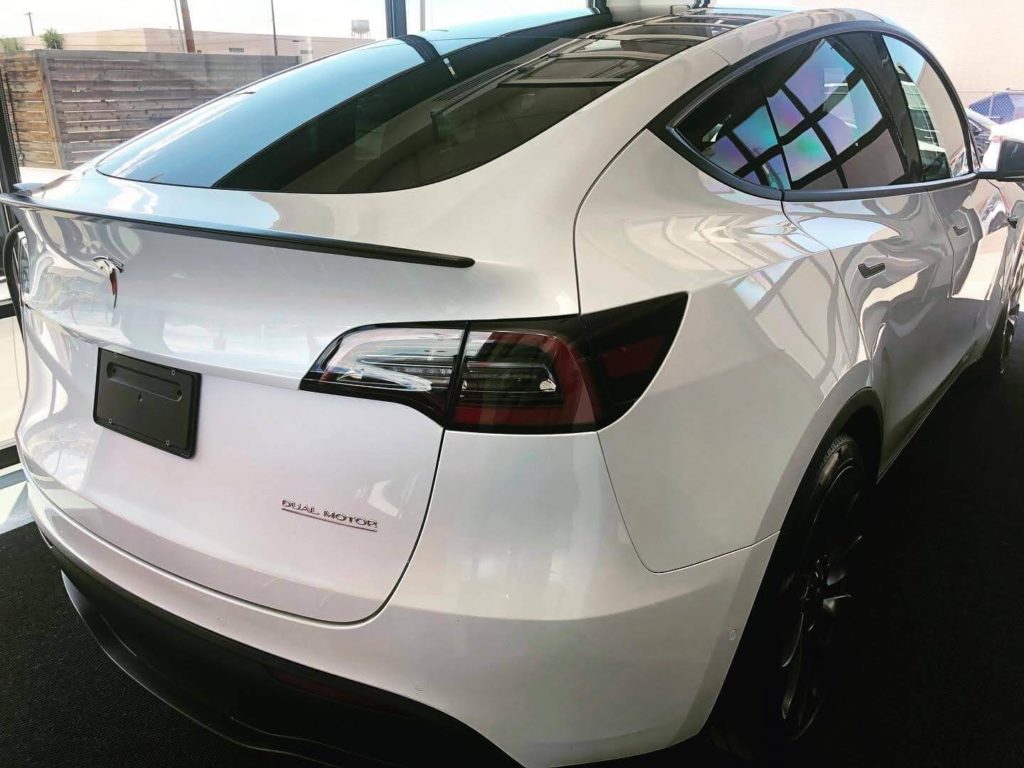 2. Bulletproof Rivian R1T and RS1
Rivian R1T is an adventure-oriented utility vehicle that comes with a superb range with a single charge. To keep gravity down, its battery is placed under the passenger section. Different battery sizes are offered such as 105, 135, and 180 kilowatt-hours. The vehicle can run approximately 230 miles on its smallest battery and can go up to 400 miles on its largest battery.
This fantastic truck comes with four electric motors in which each one is mounted at each wheel. It delivers almost 908 lb-ft of torque and 835 hp. Sources claim that it can sprint up to 60 mph just in 3.0 seconds.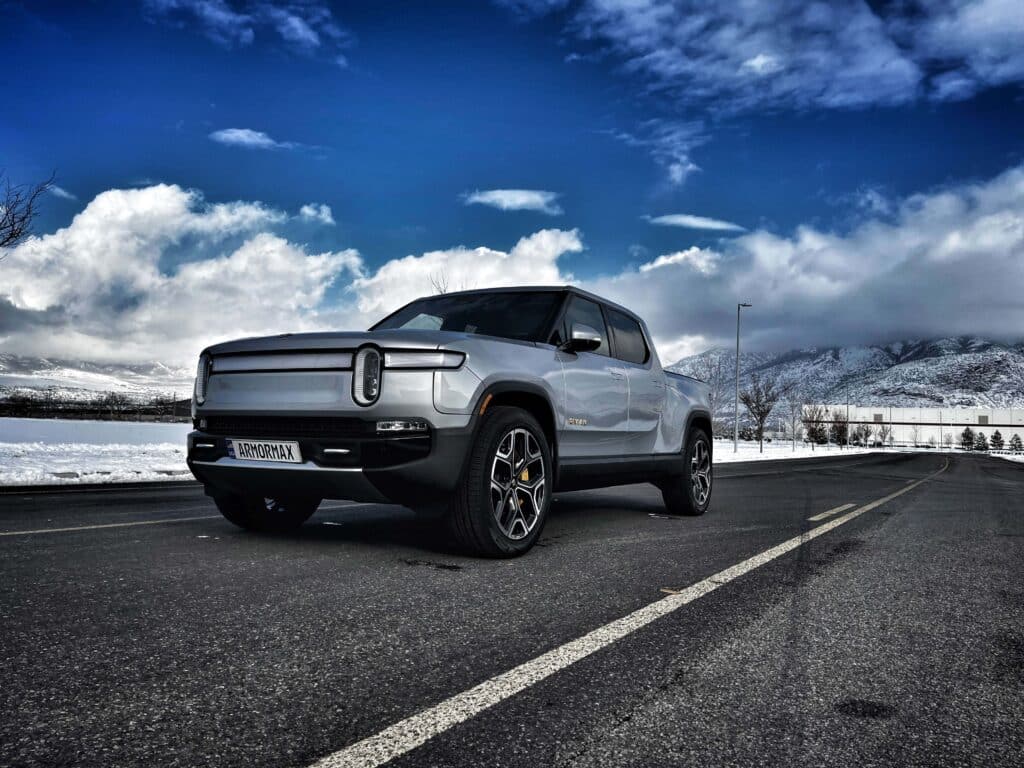 The vehicle is made of extremely robust steel and other states of the art ceramic composites. It offers foolproof protection against different types of ballistic and chemical attacks. Armoring doesn't make it bulky enough to affect its performance. If you are looking for sheer power, Rivian RIT and RSI are the best options for you.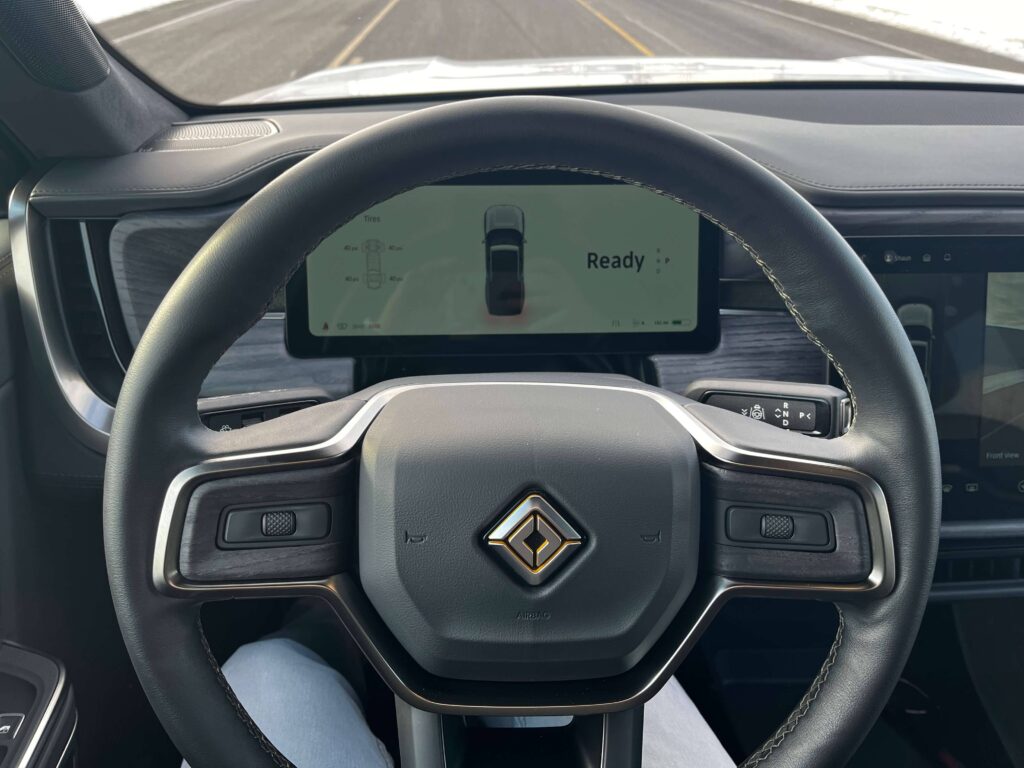 3. Bulletproof Porsche Taycan
Porsche Taycan comes with excellent performance, a superb exterior, and a spectacular wagon body. Besides its look, it comes with superb safety features such as automatic emergency braking and parking assistance. Some optional features include lane change assist, adaptive cruise control, night vision cameras, etc.
This spectacular masterpiece of Armormax comes with a lavish interior and even ride. Its battery capacity is 93.4 kWh which produces almost 375 hp and it goes up to 469 horsepower. It is the best vehicle that you can armor to make it extremely secure for your family.
Porsche Taycan comes with 2.4-inch thick bulletproof glass that gives you full protection against deadly armor-piercing weapons. Further, when ballistic glass is cracked, it doesn't fall into the cabin of the vehicle to protect the passengers. In simple words, advanced driver assistance and safety features with the latest armoring technology make it stand out among all of its competitors.
4. Bulletproof Hummer EV
Hummer EV is another powertrain that comes with three powerful motors. These motors make 1000 hp that can sprint the vehicle to 60 mph just in 3.3 seconds. It has excellent braking and acceleration performance.
This vehicle is loaded with an advanced Ultium battery pack that helps you to drive your vehicle for almost 329 miles on a single charge. 350-kilowatt fast charging makes it more convenient to use because it can run almost 100 miles after 10 minutes of charging.
Different features such as automated emergency braking, lane-departure warning, and adaptive cruise control feature not only make the vehicle easy to drive but also the safest for passengers.
Armored Hummer EV is the best option for those who are highly risk-prone on the road. It comes with a robust composite body and high-quality bulletproof glass that can protect the passengers from multiple shots of lethal weapons like a magnum.
Armormax can proficiently customize Hummer EVs depending on your need. For example, you can add some advanced safety and security features such as automatic braking, run-flat tires, shatterproof windows, etc.
5. Bulletproof Jaguar I-Pace
Jaguar I-Pace is one of the most popular luxury EVs that beat the electric SUVs that debuted in the same year. Now, you can make it extremely secure by adding armor to it to protect you and your family.
This electric vehicle comes with a 90-kilowatt-hour battery that produces 394 HP and 512 PF of torque. It can run almost 230 miles on a single charge. Further, it can achieve almost 120 mph maximum speed which is electronically limited. Jaguar I-Pace comes with 240-Volt/ DC Fast charge and can be fully charged in less than an hour.
Along with hands-free driving, it is loaded with many other safety features such as automatic emergency braking, traffic sign recognition, lane-departure warning, and blind-spot monitoring. Above all, turning it into an armored vehicle make it extremely secure for your beloved ones.
6. Bulletproof Lucid Air
Lucid Air is another great option for electric vehicle lovers. It is a fully electronic and luxurious vehicle that gives tough competition to the Mercedes Benz EQS and Tesla Model S. The vehicle comes with special 21" Aero wheels and 1050 hp. It can run more than 500 miles on a single charge with a maximum speed of over 200 mph. Lucid can sprint up to 60 mph just in 2.0 seconds.
After armoring the vehicle, you can feel the peace of mind that armoring provides as you travel. Remember if you can't compromise on the performance of the vehicle, you should contact a professional company like Armormax to make it bulletproof.
This vehicle is the finest option for you if you are looking for a lightweight armored vehicle. You can customize different types of features according to your need to make it more secure. For example, you can add a smokescreen system, road track dispensing system, bomb blankets, etc. These features give another layer of protection to your vehicle to safeguard you and your beloved ones.
Why Choose Armormax for Bulletproofing your Electric Cars?
Today most people prefer electric cars over other vehicles because they are not only environmentally friendly but also cost-efficient. Are you intending to buy a new electric vehicle?
If so, we highly recommend you go with bulletproof electric options.
Armormax is famous for creating extremely reliable armored vehicles in different protective packages and price ranges.
Armormax uses the lightest armor components to keep the vehicle's weight down in order to improve its performance. After armoring the vehicles, their weight is slightly increased which has minimal effect on the performance of the vehicle.
Do you have any questions about bulletproofing electric cars? If so, feel free to contact Armormax via email ([email protected]), text or calling 801.393.1075.